Cavalcade 2020 Featured Books
Want to participate in a group read with featured Cavalcade books? Check out our Facebook Events Page for information on times and books!
Get lost in the pages of these books. The 12th Annual Cavalcade of Authors will be held in March 2020 at Enterprise Middle School – Tricities, Richland WA.
Sort Featured Books By
---
Click on a book cover for more information about the book or scroll to the bottom of the page for a more detailed list.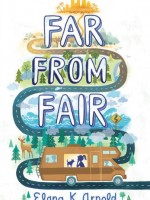 Far From Fair
by
Elana K. Arnold
Odette Zyskowski has a list: Things That Aren't Fair. At the top of the list is her
parents' decision to take the family on the road in an ugly RV they've nicknamed the Coach. There's nothing fair about leaving California and living in the cramped Coach with her parents and exasperating younger brother, sharing one stupid cell phone among the four of them. And there's definitely nothing fair about what they find when they reach Grandma Sissy's house, hundreds of miles later. Most days it seems as if everything in Odette's life is far from fair. Is there a way for her to make things right? (grades 5-8)
---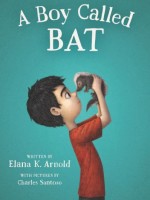 A Boy Called Bat
by Elana K. Arnold

For Bixby Alexander Tam (nicknamed Bat), life tends to be full of surprises—some of
them good, some not so good. Today, though, is a good-surprise day. Bat's mom,
a veterinarian, has brought home a baby skunk, which she needs to take care of until she can hand him over to a wild animal shelter. But the minute Bat meets the kit, he knows they belong together. And he's got one month to show his mom that a baby skunk might just make a pretty terrific pet. (grades 3-6)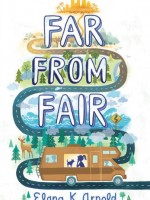 Far From Fair
by Elana K. Arnold

Odette Zyskowski has a list: Things That Aren't Fair. At the top of the list is her
parents' decision to take the family on the road in an ugly RV they've nicknamed the Coach. There's nothing fair about leaving California and living in the cramped Coach with her parents and exasperating younger brother, sharing one stupid cell phone among the four of them. And there's definitely nothing fair about what they find when they reach Grandma Sissy's house, hundreds of miles later. Most days it seems as if everything in Odette's life is far from fair. Is there a way for her to make things right? (grades 5-8)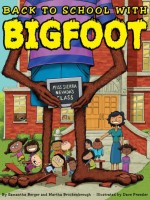 Back to School with Bigfoot
by Martha Brockenbrough

The first day of school is right around the corner! And everything is bigger for Bigfoot -- especially back to school problems like getting a haircut, trying on new clothes, and finding new shoes that fit! Told from a giant (and very hairy) point of view, Back to School with Bigfoot deftly tackles the worries kids face as that first day of school draws closer, and ends on a colossal high note! (gradesK-3)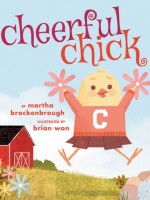 Cheerful Chick
by Martha Brockenbrough

Right from the moment Chick is born, she wants to lead the other animals in cheer! Unfortunately, the rest of the barnyard just isn't quiiiite as enthusiastic. Lucky for little Chick she has a whole squad of siblings who are backing her up (even when she doesn't realize it)! (grades K-3)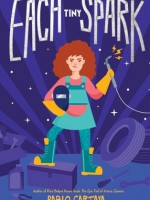 Each Tiny Spark
by Pablo Cartaya

From award-winning author Pablo Cartaya comes a deeply moving middle grade novel about a daughter and father finding their way back to each other in the face of their changing family and community.

Emilia Torres has a wandering mind. It's hard for her to follow along at school, and sometimes she forgets to do what her mom or abuela asks. But she remembers what matters: a time when her family was whole and home made sense. When Dad returns from deployment, Emilia expects that her life will get back to normal. Instead, it unravels.

Dad shuts himself in the back stall of their family's auto shop to work on an old car. Emilia peeks in on him daily, mesmerized by the sparks flying from his welder. One day, Dad calls Emilia over to take a closer look. Then, he teaches her how to weld. And over time, flickers of her old dad reappear.

But as Emilia finds a way to repair the relationship with her father at home, her community ruptures with some of her classmates, like her best friend Gus, at the center of the conflict.

Each Tiny Spark by Pablo Cartaya is a tender story about asking big questions and being brave enough to reckon with the answers.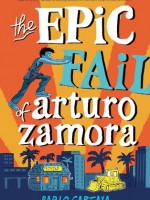 Epic Fail of Arturo Zamora
by Pablo Cartaya

Save the restaurant. Save the town. Get the girl. Make Abuela proud. Can thirteen-year-old Arturo Zamora do it all or is he in for a BIG, EPIC FAIL?

For Arturo, summertime in Miami means playing basketball until dark, sipping mango smoothies, and keeping cool under banyan trees. And maybe a few shifts as junior lunchtime dishwasher at Abuela's restaurant. Maybe. But this summer also includes Carmen, a cute poetry enthusiast who moves into Arturo's apartment complex and turns his stomach into a deep fryer. He almost doesn't notice the smarmy land developer who rolls into town and threatens to change it. Arturo refuses to let his family and community go down without a fight, and as he schemes with Carmen, Arturo discovers the power of poetry and protest through untold family stories and the work of Jose Marti.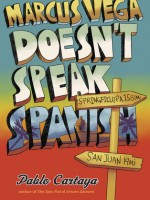 Marcus Vega Doesn't Speak Spanish
by Pablo Cartaya

Marcus Vega is six feet tall, 180 pounds, and the owner of a premature mustache. When you look like this and you're only in the eighth grade, you're both a threat and a target. Marcus knows what classmates and teachers see when they look at him: a monster.

But appearances are deceiving. At home, Marcus is a devoted brother. And he finds ways to earn cash to contribute to his family's rainy day fund. His mom works long hours and his dad walked out ten years ago—someone has to pick up the slack.

After a fight at school leaves him facing suspension, Marcus and his family decide to hit the reset button and regroup for a week in Puerto Rico. Marcus is more interested in finding his father, though, who is somewhere on the island. Through a series of misadventures that take Marcus all over Puerto Rico in search of the elusive Mr. Vega, Marcus meets a colorful cast of characters who show him the many faces of fatherhood. And he even learns a bit of Spanish along the way.

Marcus Vega Doesn't Speak Spanish is a novel about discovering home and identity in uncharted landscapes.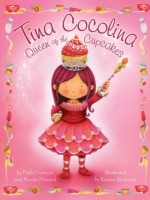 Tina Cocolina: Queen of the Cupcakes
by Pablo Cartaya

Fans of Fancy Nancy and Pinkalicious will adore Tina Cocolina, a sweet little cupcake of a girl with a sense of adventure and a flair for fashion who's on the hunt for her perfect topping. This mouthwatering picture book includes cupcake and frosting recipes from an award-winning pastry chef, maestro Martin Howard.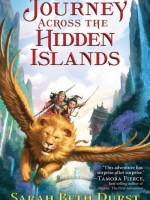 Journey Across the Hidden Islands
by Sarah Beth Durst

The traditional Emperor's Journey should be uneventful. But as the princesses Seika and Ji Lin—twin sisters—travel to pay respects to their kingdom's dragon guardian, unexpected monsters appear and tremors shake the earth. The Hidden Islands are threatened as old rituals fail. With only their strength, ingenuity, and flying lion to rely on, can the sisters find a new way to keep their people safe? (grades 5-8)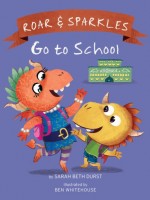 Roar and Sparkles Go to School
by Sarah Beth Durst

Roar is worried about his first day at school. He's worried that he'll have to do really hard things, like molt his scales and fly over a volcano. And what if his teacher doesn't like dragons? Big sister Sparkles reassures Roar That school is fun. And when the first day of school arrives, Roar finds his worries melt away. He meets new friends, plays dragon games, listens to fun stories, and finds a way to thank his sister for support. (grades K-3)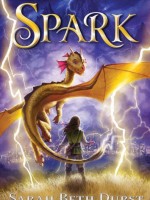 Spark
by Sarah Beth Durst

Storm beasts and their guardians create perfect weather every day, and Mina longs for a storm beast of her own. But when the gentle girl bonds with a lightning beast—a creature of fire and chaos—everyone's certain it's a mistake. Everyone but Mina and the beast himself, Pixit. Quickly enrolled in lightning school, Mina struggles to master a guardian's skills, and she discovers that her country's weather comes at a devastating cost—a cost powerful people wish to hide. Mina's never been the type to speak out, but someone has to tell the truth, and, with Pixit's help, she resolves to find a way to be heard. (grades 5-8)
The Girl Who Could Not Dream
by Sarah Beth Durst

Sophie loves the hidden shop below her parents' bookstore, where dreams are secretly bought and sold. When the dream shop is robbed and her parents go missing, Sophie must unravel the truth to save them. Together with her best friend—a wisecracking and fanatically loyal monster named Monster—she must decide whom to trust with her family's carefully guarded secrets. Who will help them, and who will betray them? (grades 3-6)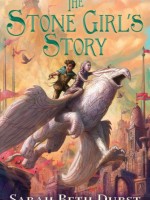 The Stone Girl's Story
by Sarah Beth Durst

Mayka and her stone family were brought to life by the stories etched into their bodies. Now time is eroding these vital marks, and Mayka must find a stonemason to recarve them. But the search is more complex than she had imagined, and Mayka uncovers a scheme endangering all stone creatures. Only someone who casts stories into stone can help—but whom can Mayka trust? Where is the stonemason who will save them? (grades 5-8)
The Flash: Hocus Pocus (The Flash #1)
by Barry Lyga

In a timeline where Flashpoint never happened, The Flash (aka Barry Allen) must face a mysterious villain who can control the minds and actions of citizens. But when Hocus Pocus, as he calls himself, takes control of Barry, it's up to Team Flash to help the Scarlet Speedster before he's forced to do the unthinkable. Written by New York Times bestselling author Barry Lyga, this is one adventure fans of the TV series won't want to miss! (grades 5-8)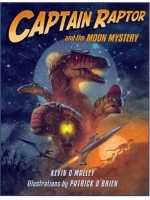 Captain Raptor and the Moon Mystery Captain Raptor
by Kevin O'Malley

When a mysterious object lands on one of Jurassica's moons, Captain Raptor and his crew set out in their spaceship to investigate. Will the dinosaurs be able to survive their alien encounter? (grades K-3)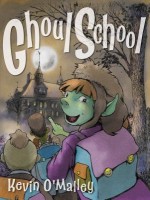 Ghoul School
by Kevin O'Malley

Bea A. Fraid goes to an all-ghoul school where students learn how to make haunted houses, paint terrifying pictures, and eat lady fingers and spare ribs for lunch. But Bea doesn't want to be scary; she wants to dance and sing and tell jokes, which frequently lands her in the principal's office. Find out how Bea becomes the scariest ghoul of all in this delightful Halloween caper. (grades K-3)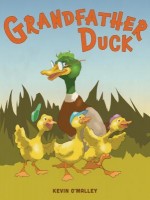 Grandfather Duck
by Kevin O'Malley

When Mother Duck calls on Grandfather Duck to entertain her three ducklings, Grandfather Duck obliges with a riotous visit to a nearby pond, where the ducklings tempt fate by taunting a cat, trying to eat a poisonous plant, and attempting to fly off of a very large rock. In each case Grandfather Duck comes to the rescue and teaches the ducklings a valuable life lesson. (grades K-3)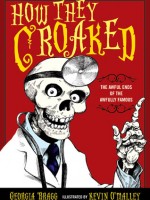 How They Croaked
by Kevin O'Malley

Over the course of history, men and women have lived and died. In fact, getting sick and dying can be a big, ugly mess—especially before the modern medical care that we all enjoy today. From King Tut's ancient autopsy to Albert Einstein's great brain escape, How They Croaked contains all the gory details of the awful ends of nineteen awfully famous people. (grades 5-8)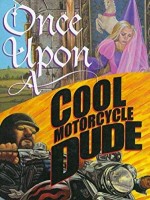 Once Upon a Cool Motorcycle Dude
by Kevin O'Malley

When their teacher gives a joint storytelling assignment, a boy and a girl have different ideas of how their fairy tale should evolve. Can they agree on who will live happily ever after? With a cool motorcycle dude and a beautiful princess the possibilities are endless! (grades K-3)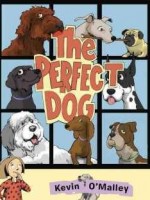 The Perfect Dog
by Kevin O'Malley

When your parents say you can get a dog, you feel so LUCKY. And after you finally figure out what kind of dog you want, that feels even LUCKIER. But when the perfect dog chooses you—it feels like you're the LUCKIEST kid in the world! Dogs come in all shapes, sizes, and personalities. But which one is perfect for you? (grades K-3)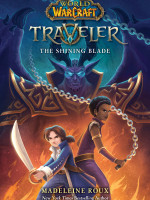 World of Warcraft: the Shining Blade (Traveler #3)
by Madeleine Roux

Aramar Thorne and Makasa Flintwill have borne their fair share of troubles. Ever since Aram's father entrusted him with an enchanted compass, Aram and Makasa have traveled the extraordinary lands of Azeroth, seeking out the shards of a legendary weapon: the Diamond Blade. The truth behind the weapon, and the terrible doom it seeks to prevent, seems to have been lost at sea with Captain Greydon Thorne. But not all secrets are meant to stay buried.

As the pair struggles to stay two steps ahead of Malus and the Hidden - dangerous mercenaries and sorcerers who'll stop at nothing to gain the compass - Aram and Makasa have assembled a powerful band of their own allies. From lively goblins and fantastic creatures to mighty druids and mysterious dryads, people are drawn to the talented young artist and the formidable fighter - a fortunate fact. For in their most desperate hour, Aram and Makasa will need all the help they can get to prevent Azeroth from being plunged into eternal darkness and chaos. (gr 3-6)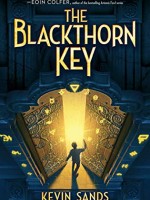 The Blackthorn Key (Blackthorn Key #1)
by Kevin Sands

"Tell no one what I've given you." Until he got that cryptic warning, Christopher Rowe was happy, learning how to solve complex codes and puzzles and creating powerful medicines, potions, and weapons as an apprentice to Master Benedict Blackthorn—with maybe an explosion or two along the way. But when a mysterious cult begins to prey on London's apothecaries, the trail of murders grows closer and closer to Blackthorn's shop. With time running out, Christopher must use every skill he's learned to discover the key to a terrible secret with the power to tear the world apart. (grades 5-8)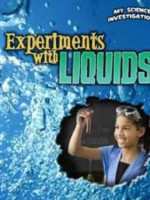 Experiments with Liquid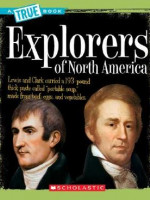 Exploreres of North America
by Christine Taylor-Butler

Discover the origins of European exploration of the Americas.
A True Book: American History series allows readers to experience the earliest moments in American history and to discover how these moments helped shape the country that it is today.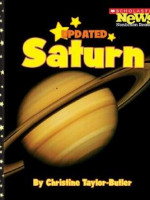 Saturn
by Christine Taylor-Butler

Discover Saturn, the sixth planet from the sun in our solar system.
Scholastic News Nonfiction Readers: Space Science series gives the youngest reader (Ages 6-7) an introduction to Space. Each book includes chapters that help readers identify key details while the photographs, and other text features encourage students to make connections on their own.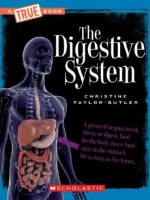 The Digestive System
by Christine Taylor-Butler

An introduction to the digestive system.
This book introduces readers (Grades 3-5) to the digestive system, including the digestive process, the organs involved in digestion, and common problems and diseases associated with the digestive system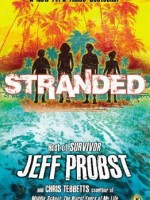 Stranded (Stranded #1)
by Chris Tebbetts & Jeff Probst

A family vacation becomes a game of survival! It was supposed to be a vacation--and a chance to get to know each other better. But when a massive storm sets in without warning, four kids are shipwrecked alone on a rocky jungle island in the middle of the South Pacific. No adults. No instructions. Nobody to rely on but themselves. Can they make it home alive? A week ago, the biggest challenge Vanessa, Buzz, Carter, and Jane had was learning to live as a new blended family. Now the four siblings must find a way to work as a team if they're going to make it off the island. They're all in this adventure together--but first they've got to learn to survive one another. (grades 3-6)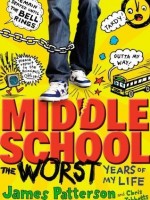 The Worst Years of My Life (Middle School #1)
by Chris Tebbetts  & James Patterson

Rafe has enough problems at home without throwing his first year of middle school into the mix. Luckily, he's got an ace plan for the best year ever, if only he can pull it off: With his best friend Leonardo awarding him points, he tries to break every rule in the oppressive Code of Conduct. Chewing gum in class--5,000 points! Running in the hallway-- 10,000 points! Pulling the fire alarm--50,000 points! But when Rafe's game starts to catch up with him, he'll have to decide if winning is all that matters, or if he's finally ready to face the rules, bullies, and truths he's been avoiding. (grades 3-6)