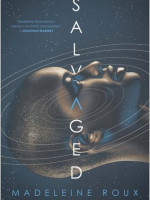 Salvaged
by
Madeleine Roux
A WOMAN ON THE RUN. A CAPTAIN ADRIFT IN SPACE. ONE OF THEM IS INFECTED WITH AN ALIEN PARASITE.
In this dark science fiction thriller, a young woman must confront her past so the human race will have a future.
Rosalyn Devar is on the run from her famous family, the bioengineering job she's come to hate, and her messed-up life. She's run all the way to outer space, where she's taken a position as a "space janitor," cleaning up ill-fated research expeditions. But no matter how far she goes, Rosalyn can't escape herself. After too many mistakes on the job, she's given one last chance: take care of salvaging the Brigantine, a research vessel that has gone dark, with all crew aboard thought dead.
But the Brigantine's crew are very much alive--if not entirely human. Now Rosalyn is trapped on board, alone with a crew infected by a mysterious parasitic alien. The captain, Edison Aries, seems to still maintain some control over himself and the crew, but he won't be able to keep fighting much longer. Rosalyn and Edison must find a way to stop the parasite's onslaught...or it may take over the entire human race. (gr 10+)
2013-05-26