Cavalcade 2020 Featured Books
Want to participate in a group read with featured Cavalcade books? Check out our Facebook Events Page for information on times and books!
Get lost in the pages of these books. The 12th Annual Cavalcade of Authors will be held in March 2020 at Enterprise Middle School – Tricities, Richland WA.
Sort Featured Books By
---
Click on a book cover for more information about the book or scroll to the bottom of the page for a more detailed list.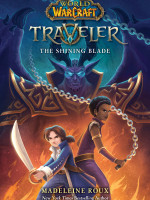 World of Warcraft: the Shining Blade (Traveler #3)
by
Madeleine Roux
Aramar Thorne and Makasa Flintwill have borne their fair share of troubles. Ever since Aram's father entrusted him with an enchanted compass, Aram and Makasa have traveled the extraordinary lands of Azeroth, seeking out the shards of a legendary weapon: the Diamond Blade. The truth behind the weapon, and the terrible doom it seeks to prevent, seems to have been lost at sea with Captain Greydon Thorne. But not all secrets are meant to stay buried.
As the pair struggles to stay two steps ahead of Malus and the Hidden - dangerous mercenaries and sorcerers who'll stop at nothing to gain the compass - Aram and Makasa have assembled a powerful band of their own allies. From lively goblins and fantastic creatures to mighty druids and mysterious dryads, people are drawn to the talented young artist and the formidable fighter - a fortunate fact. For in their most desperate hour, Aram and Makasa will need all the help they can get to prevent Azeroth from being plunged into eternal darkness and chaos. (gr 3-6)
---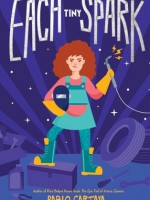 Each Tiny Spark
by Pablo Cartaya

From award-winning author Pablo Cartaya comes a deeply moving middle grade novel about a daughter and father finding their way back to each other in the face of their changing family and community.

Emilia Torres has a wandering mind. It's hard for her to follow along at school, and sometimes she forgets to do what her mom or abuela asks. But she remembers what matters: a time when her family was whole and home made sense. When Dad returns from deployment, Emilia expects that her life will get back to normal. Instead, it unravels.

Dad shuts himself in the back stall of their family's auto shop to work on an old car. Emilia peeks in on him daily, mesmerized by the sparks flying from his welder. One day, Dad calls Emilia over to take a closer look. Then, he teaches her how to weld. And over time, flickers of her old dad reappear.

But as Emilia finds a way to repair the relationship with her father at home, her community ruptures with some of her classmates, like her best friend Gus, at the center of the conflict.

Each Tiny Spark by Pablo Cartaya is a tender story about asking big questions and being brave enough to reckon with the answers.