Cavalcade 2020 Featured Books
Want to participate in a group read with featured Cavalcade books? Check out our Facebook Events Page for information on times and books!
Get lost in the pages of these books. The 12th Annual Cavalcade of Authors will be held in March 2020 at Enterprise Middle School – Tricities, Richland WA.
Sort Featured Books By
---
Click on a book cover for more information about the book or scroll to the bottom of the page for a more detailed list.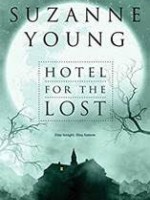 Hotel for the Lost
by
Suzanne Young
When Audrey Casella arrives for an unplanned stay at the grand Hotel Ruby, she's grateful for the detour. Just months after their mother's death, Audrey and her brother, Daniel, are on their way to live with their grandmother, dumped on the doorstep of a DNA-matched stranger because their father is drowning in his grief.
Audrey and her family only plan to stay the night, but life in the Ruby can be intoxicating, extending their stay as it provides endless distractions—including handsome guest Elias Lange, who sends Audrey's pulse racing. However, the hotel proves to be as strange as it is beautiful. Nightly fancy affairs in the ballroom are invitation only, and Audrey seems to be the one guest who doesn't have an invite. Instead, she joins the hotel staff on the rooftop, catching whispers about the hotel's dark past.
The more Audrey learns about the new people she's met, the more her curiosity grows. She's torn in different directions—the pull of her past with its overwhelming loss, the promise of a future that holds little joy, and an in-between life in a place that is so much more than it seems…
Welcome to the Ruby.
---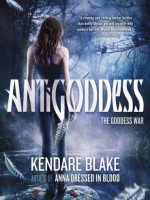 Antigoddess (Goddess War #1)
by Kendare Blake

Old Gods never die…Or so Athena thought. But then the feathers started sprouting beneath her skin, invading her lungs like a strange cancer, and Hermes showed up with a fever eating away his flesh. So much for living a quiet eternity in perpetual health. Desperately seeking the cause of their slow, miserable deaths, Athena and Hermes travel the world, gathering allies and discovering enemies both new and old. Their search leads them to Cassandra—an ordinary girl who was once an extraordinary prophetess, protected and loved by a god. These days, Cassandra doesn't involve herself in the business of gods—in fact, she doesn't even know they exist. But she could be the key in a war that is only just beginning. Because Hera, the queen of the gods, has aligned herself with other of the ancient Olympians, who are killing off rivals in an attempt to prolong their own lives. But these antigods have become corrupted in their desperation to survive, horrific caricatures of their former glory. Athena will need every advantage she can get, because immortals don't just flicker out. Every one of them dies in their own way. Some choke on feathers. Others become monsters. All of them rage against their last breath. The Goddess War is about to begin. (grades 8-10)