Read for Life!
Get lost in the pages of these books. The 9th Annual Cavalcade of Authors will be held in April 2017 at Washington State University – Tricities, Richland WA.
TO ATTEND CAVALCADE
Students must:

Be among the first 50 students from your school to read a book from at least four different Cavalcade authors
Return your paperwork to your school librarian

AT CAVALCADE
Students will:

Attend writing workshops presented by different Cavalcade Authors
Eat lunch while sharing with friends
Get books and personal items autographed
Ask our Young Adult writers all those burning questions during the author panel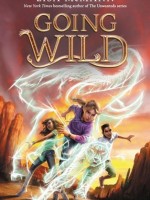 Going Wild (Going Wild #1)
by Lisa McMann
Charlie Wilde knew her life would change forever when her family moved from the city of Chicago to the suburbs of Arizona…and that was before she found the bracelet. After putting it on, she notices odd things start to happen. Suddenly Charlie seems to have the speed of a cheetah and the strength of an elephant—and that's just the beginning. She would be thrilled about her transformation if she had any idea how to use the device or control her amazing powers. So Charlie is forced to put her trust in new friends to help her uncover the surprising truth behind the mysterious bracelet.