Cavalcade 2018 Featured Books
TO ATTEND CAVALCADE
Students must be among the first 50 students from your school to read a book from at least four different Cavalcade authors and return their paperwork to school.
AT CAVALCADE
Students will attend writing workshops presented by different authors, eat lunch with friends, get autographs from their favorite authors, and ask the Cavalcade authors all those burning questions.
Read for Life!
Get lost in the pages of these books. The 10th Annual Cavalcade of Authors will be held in April 2018 at Washington State University – Tricities, Richland WA.
Fantasy Baseball
by Alan Gratz

Alex Metcalf must be dreaming. What else would explain why he's playing baseball for the Oz Cyclones, with Dorothy as his captain, in the Ever After Baseball Tournament? But Alex isn't dreaming, this is real, and winning the tournament might be his only chance to get back home because the champions get a wish granted by the Wizard. Too bad Ever After's most notorious criminal, the Big Bad Wolf, is also after the wishes. And anyone who gets in his way gets eaten! (Ages 8-12)
---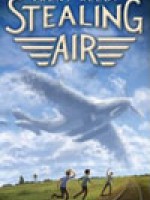 Stealing Air
by Trent Reedy

When his dad announced they were moving to Iowa, Brian looked forward to making some new friends. But on his first day there he makes an enemy instead -- Frankie Heller, the meanest kid in town. Brian needs to hang out with someone cool to get back on track. Alex has always been the coolest guy around, and good with money, just like his dad. But now the family is struggling, and he needs to make some cash to keep up appearances. Then an opportunity falls in his lap. Max is a scientific genius, but his parents are always busy with their own work. Building an actual plane should get their attention -- if only he wasn't scared of heights. The answer to all three boys' problems starts with Max's secret flyer. But Frankie and the laws of popularity and physics stand in their way. Can they work together in time to get their plan AND their plane off the ground? (Ages 10-12)