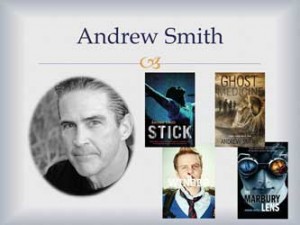 The two worst jobs I ever had were: 1) Working in a chemical milling plant where we manufactured electronics parts by dissolving chunks of metal in disgusting and toxic chemicals, and 2) Unloading crates of bananas from ships that came from Central America—the crates often had enormous and disgusting bugs in them.
Andrew Smith is online at ghostmedicine.blogspot.com or www.authorandrewsmith.com
---
2014 Workshop: Keeping it Real: When the Character Drives the Story
Where do stories come from? They start, live, and end with your characters. Learn about extracting what you know and have experienced and making these elements the air your characters breathe.
Featured books:

In the Path of Falling Objects by Andrew Smith
grades 9-12
In 1970, after their older brother is shipped off to Vietnam, sixteen-year-old Jonah and his younger brother Simon leave home to find their father, who is being released from an Arizona prison, but soon find themselves hitching a ride with a violent killer.
---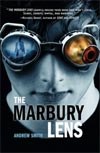 Marbury Lens by Andrew Smith
The Marbury Lens, book #1
grade 11-12
After being kidnapped and barely escaping, 16-year-old Jack goes to London with his best friend Connor, where someone gives him a pair of glasses that send him to an alternate universe where war is raging, he is responsible for the survival of two younger boys, and Connor is trying to kill them all.
---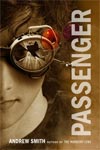 Passenger by Andrew Smith
Marbury Lens, book #2
grades 11-12
Jack and Conner are drawn back to Marbury to rescue other friends and attempt to destroy the lens that transports them to the alternate world.
---
Ghost Medicine by Andrew Smith
grades 8-12
Troy Stotts, who is still mourning the recent death of his mother, relates the events of the previous year, when he and his two closest friends try to retaliate against the sheriff's son, who had been bullying them for years.
---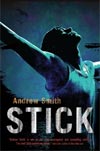 Stick by Andrew Smith
grades 9-12
Protected by his older brother from bullies who tease him because he was born missing an ear, 14-year-old Stark McClellan is unable to hide from his abusive parents and runs away from home when his older brother is thrown out of the house for revealing his sexual orientation.
---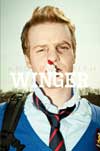 Winger by Andrew Smith
grades 8-12
Ryan Dean West is a fourteen-year-old junior at a boarding school for rich kids. He's living in Opportunity Hall, the dorm for troublemakers, and rooming with the biggest bully on the rugby team. And he's madly in love with his best friend Annie, who thinks of him as a little boy.
With the help of his sense of humor, rugby buddies, and his penchant for doodling comics, Ryan Dean manages to survive life's complications and even find some happiness along the way. But when the unthinkable happens, he has to figure out how to hold on to what's important, even when it feels like everything has fallen apart.
---

Grasshopper Jungle by Andrew Smith
grades 9-12
To be released February 2014
In the small town of Ealing, Iowa, Austin and his best friend Robby have accidentally unleashed an unstoppable army. An army of horny, hungry, six-foot-tall praying mantises that only want to do two things.
This is the truth. This is history.
It's the end of the world. And nobody knows anything about it.
You know what I mean.