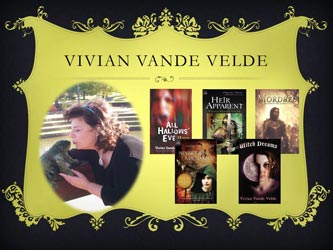 I became a writer because I hate housework. I had to have SOME excuse for how I was spending my days at home but not having time to clean. So I chose the well-please-excuse-the-messy-house-but-I've-been-busy-writing route. And I rationalize the fact that I spend so much time playing computer games by pointing out that some of my stories have to do with gaming—User Unfriendly was the first, followed by Heir Apparent, and my most recent (coming in spring 2012) Deadly Pink. In my stories, something always goes terribly wrong with the game, because what would be the point otherwise? Most of my other stories are fantasy and involve ghosts, vampires, and some pretty non-traditional witches.
---
2012 Cavalcade workshop: Who Are These People, And What Are They Doing in My Story?
Working with old photographs, students will answer questions that will get them started thinking about characters.
Featured books:
The Book of Mordred by Vivian Vande Velde
grades 8-10
Dark forces are taking hold in the kingdom of Camelot: King Arthur struggles to keep his knights in line as they steadily divide themselves into factions; the great Merlin has vanished at the hands of his lover and pupil, Nimue; wizards all over the countryside battle for whatever measures of power they can find. At the center of the maelstrom stands Keira, an innocent girl who possesses the ability to foretell the fate of her world. When Keira is kidnapped from her village home, her mother, Alayna, flees to Camelot and finds Mordred, an enigmatic knight who will ultimately become Keira's greatest champion, Alayna's greatest love, and King Arthur's greatest enemy. In the long tradition of Arthurian legend, Mordred has been characterized as a buffoon, a false knight, and a bloodthirsty traitor. The Book of Mordred reveals a mysterious man through the eyes of three women who love him.
All Hallows' Eve by Vivian Vande Velde
grades 7-up
A boy is trapped in a possessed car that has stalled in the path of an oncoming train. A girl is dragged into a crypt during a field trip to an eighteenth-century cemetery. A group of friends meet their fate after an unsettling visit with a backwoods psychic. And that's just the beginning. Celebrated author Vivian Vande Velde is at her spine-tingling best in this collection of thirteen scary stories, all of which take place on Halloween night. With tales that range from the disturbing to the downright gruesome, this is one collection that teens will want to read with the lights on . . . and the doors locked.
Heir Apparent by Vivian Vande Velde
grades 6-9
In the virtual reality game Heir Apparent, there are way too many ways to get killed—and Giannine seems to be finding them all. Which is a darn shame, because unless she can get the magic ring, locate the stolen treasure, answer the dwarf's dumb riddles, impress the head-chopping statue, charm the army of ghosts, fend off the barbarians, and defeat the man-eating dragon, she'll never win. And she has to, because losing means she'll die—for real this time.
Witch Dreams by Vivian Vande Velde
grades 6-9
For six long years Nyssa has been seeking justice for her parents who were murdered when she was 10 years old. She had suspected Elsdon, a youngest son of Lord Haraford, but his parents had provided his alibi, and Nyssa was powerless to prove otherwise. Now, Elsdon returns to their medieval village, and Nyssa has a chance to discover what really happened on the day her parents died, for she has the ability to share, almost like eavesdropping, other people's dreams. But she must be subtle, for such a power would be considered magic in the eyes of the villagers, and she would be tried as a witch.
Never Trust a Dead Man by Vivian Vande Velde
grades 6-9
When Selwyn is accused of murdering his rival, Farold, he is sealed in the village burial cave with Farold's moldering corpse to await starvation—or worse. Worse comes along quickly in the form of a witch who raises Farold from the dead. Selwyn thought he disliked Farold when he was alive, but that was nothing compared to working by the dead man's side as they search for the real killer. Annotation:  Wrongly convicted of murder and punished by being sealed in the tomb with the dead man, seventeen-year-old Selwyn enlists the help of a witch and the resurrected victim to find the true killer.
Remembering Raquel by Vivian Vande Velde
grades 8-10
Fifteen-year-old Raquel Falcone is, as one of her classmates puts it, the kind of kid who has a tendency to be invisible. That is until the night she's hit by a car and killed while walking home from the movies. In brief, moving chapters, we hear about Raquel from her classmates, her best friend, her family—and the woman who was driving the car that struck her. The loss of this seemingly invisible girl deeply affects her entire community, proving just how interconnected and similar we all really are.
Companions of the Night by Vivian Vande Velde
grades 7-10
Kerry's got a tough night ahead of her. What begins as a simple lost-and-found trip to the Laundromat turns into a nightmarish odyssey of murder, vampires, and—quite possibly—true love. Vivian Vande Velde puts a terrifying spin on what should be a typical night in a small town. Annotation:  When sixteen-year-old Kerry Nowicki helps a young man escape from a group of men who claim he is a vampire, she finds herself faced with some bizarre and dangerous choices.