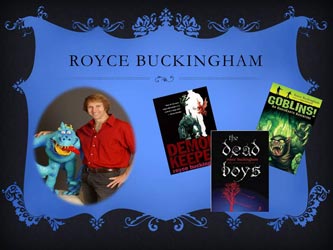 I grew up in Richland on Saint Street, went to Sacajawea Elementary, Hanford Junior High, and Hanford High School. I caught lizards and scorpions in the desert past the gas station at the west end of Saint. I swam in the Lynwood Loop pool, jumped off of the Port of Benton, got picked on relentlessly by a bully in junior high (he's dead now…and I swear I didn't do it), had my first real kiss in the school parking lot, was a major slacker on my homework (don't tell your teacher this part), drove a bright yellow pickup with flames on the side, led off for the 1985 Hanford baseball team that won the state championship, played point guard for the basketball team that reached the semi-finals, and was voted prom king. And, yes, I did manage to get into college and became a writer…oh, and a lawyer. I've got two boys, Aspen 11 and Aiden 7, a wife (Cara), and a big ol' dog named Milo.
---
2012 Cavalcade workshop: Conflict! Bad in real life, good in fiction
Royce will discuss why bad problems are good and why good villains are great. Using examples from both popular tales and his own work, Royce will encourage students to go looking for problems in both their reading and their own writing. As a special treat, Royce will use numerous examples from his most recent novel, THE DEAD BOYS, which is set in Richland.
Featured books:
Demonkeeper by Royce Buckingham
Publisher:  Penguin Group
224 pp
(Gr. 4 – 7)
Ever since his mentor—the original Demonkeeper— mysteriously disappeared, Nat has been in charge of the demons that live in his house. Most of them are just nuisances, but the Beast who lives in the basement is very dangerous. When Nat goes out one night, a clueless burglar breaks into the house and unwittingly sets the Beast free. Meanwhile, a vicious villain, the Thin Man, wants to use the Beast for his own evil purposes. Can Nat defeat the Thin Man and return the Beast to the basement without any major casualties?
Dead Boys by Royce Buckingham
grades 5-8
In the desert town of Richland, Washington, there stands a giant sycamore tree. Horribly mutated by nuclear waste, it feeds on the life energy of boys that it snags with its living roots. And when Teddy Matthews moves to town, the tree trains its sights on its next victim.
From the start, Teddy knows something is very wrong with Richland-every kid he meets disappears before his eyes. A trip to the cemetery confirms that these boys are actually dead and trying to lure him to the tree. But that knowledge is no help when Teddy is swept into the tree's world, a dark version of Richland from which there is no escape . . .
Goblins by Royce Buckingham
grades 5-8
While cruising through the woods in a "borrowed" police car, PJ and Sam accidentally hit what looks like a mutant gorilla with a bad attitude. But this is no ape – it's a goblin, escaped from the city of Argh in UnderEarth, a place beneath the world's surface. When Sam is captured by a gang of goblins, PJ must go after him. But can PJ save Sam before he becomes dinner for a bunch of hungry goblins?
You can visit Royce's website: http://www.demonkeeper.com
To contact Royce e-mail him at:  royce@demonkeeper.com