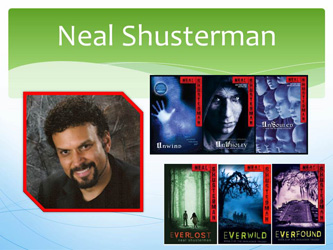 Neal Shusterman is the father of four, can clap with one hand, and makes a mean guacamole. He likes to go on cruises to write, and in fact, was on a cruise while writing this bio, in between chapters of his upcoming books Challenger Deep and Edison's Alley. He took a cruise on the largest cruise ship on the world as research for his novel Ship Out of Luck. He has published forty-five books, and swears he has never "unwound" anyone in real life.
Visit Neal Shusterman's website at http://www.storyman.com
---
2015 Workshop: Chat with Neal Shusterman
An informal conversation with New York Times best selling author Neal Shusterman. Neal will discuss his books,
including the Unwind Dystology, Tesla's Attic, Everlost, The Schwa Was Here, and Bruiser, and will discuss the craft of writing for kids and teens.
Featured books: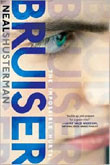 Bruiser by Neal Shusterman (grades 7-12)
Inexplicable events start to occur when sixteen-year-old twins Tennyson and Brontë befriend a troubled and misunderstood outcast, aptly nicknamed Bruiser, and his little brother, Cody. There's a reason why Brewster can't have friends, and why he can't care about too many people.
---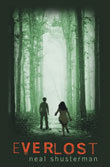 Everlost (Skinjacker Trilogy #1) by Neal Shusterman (grades 7-12)
When Nick and Allie die in a car accident, their souls continue to exist in a place known as Everlost, which is halfway between life and death. After finding Mary, the self-proclaimed queen of lost children, Nick feels that he has found home. However, Allie begins learning the "Criminal Art" of haunting and ventures into dangerous territory where a monster called the McGill threatens all the souls of Everlost.
---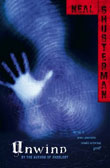 Unwind (Unwind #1) by Neal Shusterman (grades 7-12)
In a future world where those between the ages of thirteen and eighteen can have their lives "unwound" and their body parts harvested for use by others, three teens go to extreme lengths to uphold their beliefs–and, perhaps, save their own lives.