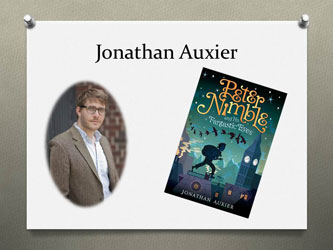 Jonathan Auxier (pronounced "ox-ee-AY") is an author, illustrator, and former yo-yo champion (this last part is true). He is allergic to almost all fruit. Pretty much every dog he meets tries to bite him. Jonathan recently wrote a book called Peter Nimble & His Fantastic Eyes, which is about a blind orphan who happens to be the greatest thief who ever lived. You can learn more about him by visiting www.TheScop.com, where he blogs about children's books old and new. Or, visit the Peter Nimble website at www.peternimble.com
---
Jonathan Auxier's 2013 workshop: "AND THEN WHAT?": Unlocking story through the power of structure:
How do you transform random events into a story? In this workshop, author Jonathan Auxier will walk writers through the process of crafting a beginning, middle, and end that will hook readers and propel them straight to the climax. Looking at examples from classic tales like Where The Wild Things Are and Star Wars, writers will discover how all great stories contain a common underlying structure. The workshop will conclude with a massive, no-holds-barred group storytelling session where everyone will come together to create an original tale.
---
Peter Nimble and His Fantastic Eyes by Jonathan Auxier
Grades 6-8
Pages: 381
Peter Nimble and His Fantastic Eyes is the utterly beguiling tale of a ten-year-old blind orphan who has been schooled in a life of thievery. One fateful afternoon, he steals a box from a mysterious traveling haberdasher a box that contains three pairs of magical eyes. When he tries the first pair, he is instantly transported to a hidden island where he is
presented with a special quest: to travel to the dangerous Vanished Kingdom and rescue a people in need. Along with his loyal sidekick a knight who has been turned into an unfortunate combination of horse and cat and the magic eyes, he embarks on an unforgettable, swashbuckling adventure to discover his true destiny.