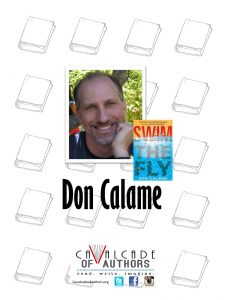 Don Calame is an author, screenwriter and amateur dog trainer. He has managed to teach his dogs to sit, stay, lie down, do a figure 8, play dead, and jump over hurdles. He is currently working on teaching his dogs how to do his wash and clean his bathroom. When Don isn't writing he is either watching hockey, watching hockey or watching hockey. When he isn't writing or watching hockey he is playing hockey either physically at an ice rink or virtually on his Playstation. Don loves reading, playing guitar, collection game worn hockey memorabilia and, did he mention, watching hockey.
2017 Workshop: THE ART OF SCREENWRITING: How to Write for Film and Television
Learn the basics of plotting and writing a film or television show and then learn how to apply those same techniques in writing just about anything else. If you can master the basics of generating a great idea and then turning that idea into a well structured story you will have the ideal foundation for writing a film, TV show, novel, short story, and even picture books. The focus of the workshop will be screenwriting how-ever the techniques learned can be applied to all kinds of writing.