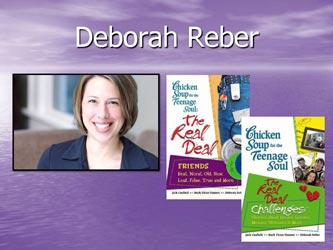 Deborah Reber has authored a number of books for teens, including Chill: Stress Reducing Techniques for a More Balanced, Peaceful You (Simon Pulse, April 2008), In Their Shoes: Extraordinary Women Describe Their Amazing Careers (Simon Pulse, 2007), the teen self-help series Chicken Soup for the Teenage Soul: The Real Deal (HCI / Scholastic, 2005-2006) and It's My Life's Friendship Handbook (PBS's It's My Life, 2006). She recently created and edited the first-ever series of teen-authored memoirs with HCI Books, Louder Than Words, which premiered August 2009.
Deborah writes a blog for teen girls, Smart Girls Know (www.smartgirlsknow.com), where she offers advice, insight, career tips, coverage of news relevant in the lives of teens, and "Smart Girls Know Affirmations" for girls ages 12 on up.
Deborah lives in Seattle with her husband, son and big, white dog.  She is an avid runner, hiker, karaoke singer, pianist and gardener.
---
2010 Cavalcade workshop: Creative nonfiction & the art of telling your personal story
An interactive writing workshop that explores the different ways in which teens can write about their lives, featuring out-of-the-box writing experiments, a look at creative ways to journal, and techniques for self-editing.
Featured books:
Chicken Soup for the Teenage Soul: The Real Deal Friends: Best, Worst, Old, New, Lost, False, True and More by Deborah Reber
Publisher:  HCI Teens
320 pp
Friends are more than just the people you hang out with. They make you laugh, they keep your secrets, they offer advice (some good, some bad), they give you a shoulder to cry on. Sometimes they move away, or betray your trust, or flake out, but mostly they are the people who are always there for you. And they know you'll be there when they need you most. Because that's what it means to be a friend. Sometimes friendship is overwhelming, sometimes it's confusing, sometimes you feel like you don't have a friend in the world, but don't worry, it's like that for everyone. That's what the stories in this book are all about. They're from real teens, and they're about the bizarre, difficult and wonderful things that really happened to them and their friends. Put that together with weird facts, cool graphics, fun advice and quizzes designed to help you figure out what you and your friends are all about, and you've got the real deal on friendship!  (Young Adult)
Chicken Soup for the Teenage Soul:
      The Real Deal Challenges:  Stories about Disses, Losses, Messes, Stresses & More by Deborah Reber
Publisher:  HCI Teens
280pp
Failing a class, getting dumped and figuring out where you fit in, are all difficult high school challenges. Finding the answer is not always easy. And let's face it, your parents may give you advice, but rarely do they really know where you're coming from. So, if you're looking for the real deal on issues like anorexia, dating, or helping a friend in trouble, you've come to the right place.
The good news about tackling challenges is that you end up stronger and smarter once you reach the other side. These stories are from teenagers just like you who have gone through many of the same problems and survived. Whether it's standing up to the mean girl in the cafeteria or staying true to yourself under peer pressure, Chicken Soup for the Teenage Soul: The Real Deal Challenges tells you the absolute truth about what it means to be a teen. (Young Adult)
You can visit Debbie's website:  http://www.deborahreber.com
To contact Debbie you can e-mail her at deborah@deborahreber.com