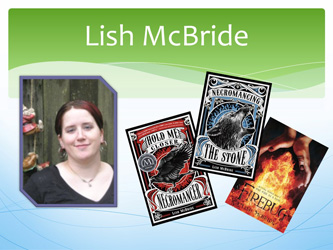 I am basically a hobbit.
I never, not once, managed to save the princess in the original Mario brothers video game.
I have two cats : Tempest (We call her Kitty 'Pest), and Captain Ninja Fish. We also have a new dog, Athena Vincent McBride Aman. Despite the dog being a female, my son thought the name Vincent "went well" with the rest of her name.
My brain can hold onto movie quotes forever, but I can't remember actually useful things like geography or history. (Unless the history is weird or disgusting in some way. My mind is a sewer.)
Visit Lish McBride's website at http://www.lishmcbride.com/
---
2015 Workshop: Humor Writing – What Makes a Story Funny? And How Can You Make Your Writing Familiar?
In this workshop we will discuss humor writing and how it can help balance other emotions (Make them laugh AND cry!), make your story more enjoyable, and keep your reader coming back for more. We will look at examples
from well-known authors and do some in class writing exercises!
Featured books: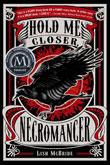 Hold Me Closer (Necromancer #1) by Lish McBride (for high school readers, grades 9-12)
A fast-food prank gets Sam noticed by Douglas, a creepy necromancer who raises the dead for cash. Douglas realizes that Sam has the power to be a necromancer, too, and offers Sam a choice – join him or die. Sam has only a week to learn how to control his own powers and make a decision before things really get ugly.
---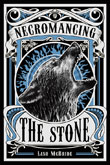 Necromancing the Stone (Necromancer #2) by Lish McBride (for high school readers, grades 9-12)
Six weeks after escaping from the necromancer Douglas, Sam LaCroix is under the protection of the Blackthorn pack of werewolves and fey hounds and unsure if his necromancer rival is dead.