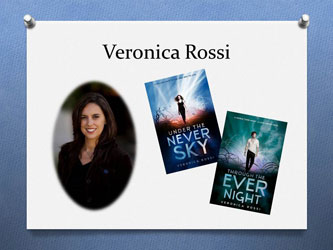 I talk to myself regularly when I write, sometimes in a terrible British accent
I try to spend as much of my day as possible in my pajamas
I name all of my computers/laptops. So far, I've had a Leo, Matteo and Romeo. I don't know why they all have to end in "eo"
I've seen the Raiders of the Lost Ark more than twenty times
I recently became a NY Times Best Selling Author
Learn more at Veronica Rossi's website, www.veronicarossi.com
---
Veronica Rossi's 2013 Workshop: WRITING HIGH CONCEPTION:
How do you create a story with a strong hook? How do you explain your story in a gripping and concise manner? What's the special element that makes people say, "I have
to read that!" This workshop will teach students how to define their story premise and convey it as a striking and easily communicable idea. "High-Concept Fiction," will be
explained, with examples from popular books and movies. By the end of this workshop, students will be able to answer the question: "What's your story about?" in a single,
compelling sentence!
---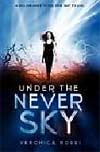 Under the Never Sky by Veronica Rossi
Grades 8-12
Pages 376
Since she'd been on the outside, she'd survived an Aether storm, she'd had a knife held to her throat, and she'd seen men murdered. This was worse. Exiled from her home, the enclosed city of Reverie, Aria knows her chances of surviving in the outer wasteland—known as The Death Shop—are slim. If the cannibals don't get her, the violent, electrified energy storms will. She's been taught that the very air she breathes can kill her. Then Aria meets an Outsider named Perry. He's wild—a savage—and her only hope of staying alive.  A hunter for his tribe in a merciless landscape, Perry views Aria as sheltered and fragile—everything he would expect from a Dweller. But he needs Aria's help too; she alone holds the key to his redemption. Opposites in nearly every way, Aria and Perry must accept each other to survive. Their    unlikely alliance forges a bond that will determine the fate of all who live under the never sky.  Veronica Rossi sends readers on an unforgettable adventure set in a world brimming with harshness and beauty.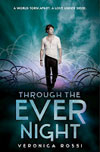 Through the Ever Night (book 2) by Veronica Rossi
Grades 8-12
Pages 400