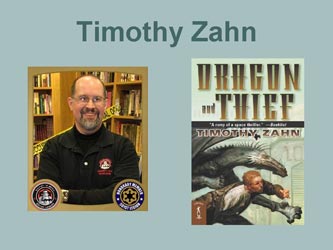 Zahn was born and raised in the Chicago area. He earned a B.S. in Physics from the University of Michigan in 1973 and an M.S. in Physics from the University of Illinois in 1975. Zahn began writing science fiction in 1975 as a hobby. In 1978, he sold his first short story to Analog. His best known work is The Thrawn Trilogy, the Star Wars novels that actually revived flagging interest in the Star Wars universe. He won a Hugo award in 1984 for the novella Cascade Point and has been nominated for Hugos on two other occasions. He currently lives with his family on the Oregon Coast.
---
2009 Cavalcade workshop: 100 Ideas in an Hour
Beginning writers often ask how an author comes up with his or her ideas. The actual truth is that raw ideas by themselves are pretty easy to generate. Using a simple Q&A interactive technique, along with mass brainstorming, the kids and I develop enough ideas and story starters to  keep a writer busy for months.
Featured book:
Dragon and Thief by Timothy Zahn
Doherty, Tom Associates, LLC
248 pp
Fourteen-year-old orphan Jack Morgan, former small-time thief, is on the run, framed for theft from megacorporation Braxton Universis. Hiding out on an unoccupied planet, his only companion an artificial intelligence programmed with the personality of his con man uncle Virge, Jack witnesses a battle between incoming spaceships. While looking over the wreckage, he meets Draycos, a dragon-like K'da, sole survivor of an advance team of K'da and their Shontine allies-murdered by their enemies, the Valahgua, with a terrible energy weapon called "the Death." With Valahgua-backed mercenaries searching the planet for survivors, Jack and Draycos work together to escape. Despite Virge's continuing doubts, Jack agrees to help Draycos find out who betrayed his people; but first they must prove Jack's innocence and get the police off his back.