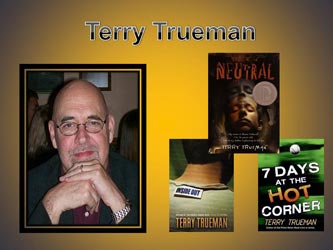 Terry Trueman was born on December 15, 1947 in Birmingham, Alabama, but grew up in Seattle. He attended the University of Washington, where he received his B.A. in creative writing. He also has an M.S. in applied psychology and an M.F.A. in creative writing, both from Eastern Washington University. The father of two sons, Henry and Jesse, Terry Trueman makes his home in Spokane, Washington, where he has lived since 1974. Trueman's hobbies include his Sea Ray boat and his 1976 Corvette Stingray, and his Corvette, fiery red! One of his heroes is poet Charles Bukowski. He considers Terry Davis and Chris Crutcher two invaluable mentors.
---
2011 Cavalcade workshop: Making Signals Thru the Glass
My work and my mission is to connect readers with one another and with their own attitudes toward people with special challenges and special needs.
Featured books:
7 Days at the Hot Corner by Terry Trueman
Gr. 8-10
Varsity baseball player Scott Latimer struggles with his own prejudices and those of others when his best friend reveals that he is gay.
Inside Out by Terry Trueman
Gr. 8-12
A sixteen-year-old with schizophrenia is caught up in the events surrounding an attempted robbery by two other teens who eventually hold him hostage.
Hurricane: A Novel by Terry Trueman
Gr. 5-8
A fictional account of one of the worst storms to hit the Caribbean–Hurricane Mitch in 1998–told from the perspec-tive of a thirteen-year-old boy living in a small village in Honduras. Previously published in the UK under the title Swallowing the sun … story and characters have been completely revised and rewritten for this U.S. edition.
Stuck in Neutral by Terry Trueman
Gr. 8-12
Fourteen-year-old Shawn McDaniel, who suffers from severe cerebral palsy and cannot function, relates his perceptions of his life, his family, and his condition, especially as he believes his father is planning to kill him.