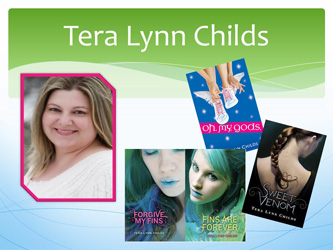 Tera Lynn Childs writes books about mermaids, monsters, and mythology—sometimes all at once! She has lived more places than she can count, watches more TV than she should, and buys more books than she could ever have time to read. Over the years she's owned one rabbit, two hamsters, three dogs, and four cars. On the way to her writing career she tried her hand at becoming a marine biologist, an architect, an intellectual property lawyer, a web designer, a movie star, and an interna-tional jet-setting princess. Luckily with writing she can still pretend to be all of the above.
Read all about Tera Lynn Childs and her books at http://teralynnchilds.com/
---
2015 Workshop: Mining Mythology – Finding Ideas and Inspiration in Classical Myth
For writers who also love mythology, whether it's Greek, Norse, Native American, or any other culture, ancient
myths provide an almost endless supply of ideas and inspiration that the clever author can use to develop and
deepen their stories. This workshop will go into how to find the best story ideas and elements from ancient mythology and how to use them in modern fiction.
Featured books: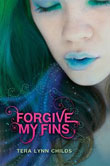 Forgive My Fins (Fins #1) by Tera Lynn Childs (grades 6-9)
Lily Sanderson, half human and half mermaid, is a Thalassinian princess living on land and attending Seaview High School. There, she meets and falls in love with fellow classmate Brody Bennett, and as she tries to win his heart, she ends up causing a major case of mistaken identity.
---

Medusa Girls (Sweet Venom #1) by Tera Lynn Childs (grades 7-9)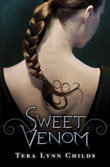 When three girls who look just like each other finally meet, they realize they are triplets and descendants of Medusa. Now, they must embrace their fates and become the monster hunters they are destined to be.
---
Oh. My. Gods. (Oh. My. Gods. #1) by Tera Lynn Childs (grades 7-10)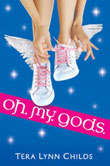 When her mother suddenly decides to marry a near-stranger, Phoebe, whose passion is running, soon finds herself living on a remote Greek island, completing her senior year at an ancient high school where the students and teachers are all descended from gods or goddesses.