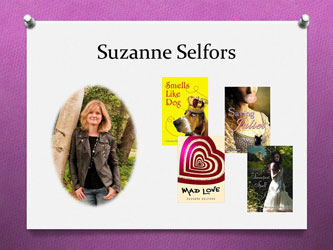 I live on an island. I eat chocolate every single day. The worst job I ever had was chopping up buckets of squid at the Seattle Aquarium. The best job I ever had is the one I have now—writing books. My favorite writer is Roald Dahl. And, YES, that's a raccoon on my head!
WARNING: Do not put a raccoon on your head unless you are a crazy writer doing research.
Visit Suzanne Selfors' website at www.suzanneselfors.com
Suzanne Selfors' 2013 Workshop: TWISTED FAIRY TALES:
Time and time again, authors call upon fairy tales for inspiration. From television shows to movies to best-selling novels, fairy tales continue to be a cherished form of storytelling. In her latest teen novel, The Sweetest Spell, Suzanne Selfors takes the story of the Ugly Duckling and makes it her own. In this workshop, we'll talk about the common themes in fairy tales, and as a group we'll have fun making changes to well-known stories, in other words, twisting them. Students will leave with lots of new ideas that will help them begin their own twisted tales.
You can visit Suzanne's website: http://www.suzanneselfors.com
To contact Suzanne you can e-mail her at mail@suzanneselfors.com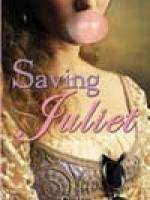 Saving Juliet
by Suzanne Selfors
Publisher:  Walker Books for Young Readers
272 pp

Mimi Wallingford's famous theater family includes a renowned Shakespearean actress. The teen herself has performed since the age of three, and is constantly reminded by her mother that the family's reputation (and the financial stability of the Wallingford Theater) rests upon her shoulders. Mimi, however, would rather major in pre-med at UCLA than study acting. When she is cast as Juliet opposite teen-idol Troy's Romeo, the two are transported to medieval Verona via a magical Shakespeare charm where they meet the real Juliet, an unpretentious, freckle-faced girl of 13. As Mimi begins to see the parallels between the situation with her mother and Juliet's being pressured by Lady Capulet to marry Paris and save the family's fortunes, she resolves to help Juliet escape. Troy and Mimi get involved in a series of misadventures as she attempts to give Romeo and Juliet a happy ending and return to Manhattan. (Gr. 7 & up)