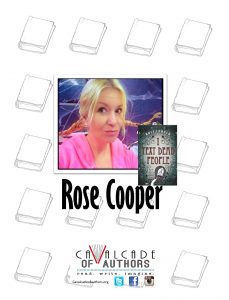 Completely normal and random and true facts about Rose:
She suffers from spontaneous laughter syndrome, often triggered from a joke told several days earlier. And sometimes she snorts. But let's not talk about that. Actually, let's forget that was ever mentioned, ok?
For as long as she can remember, people have laughed at her. Her defining moment (not trying to brag) was being nominated for funniest person in her family. Three years in a row. BAM!
She loves to find the humor in any situation. Even if it's an awful, terrible, and creepy situation. Like living at a cemetery. Or riding in a hearse. Occupied. With a corpse. Jealous much?
Rose has met the man inside the Chucky Doll. True story! She even has a picture to prove it.
She loves playing dress up with her adorable cat and puppy. The cat is still holding a grudge…
2017 Workshop: SHOW ME THE FUNNY
Did you know there are a bazillion different types of humor? One type is exaggeration. I will show you how to add humor to your writing and/or illustrations, how to find the funny in any situation, and what types of humor work best for your style. Also, there are no excuses for NOT taking this workshop.
Excuse: I don't think I'm a funny person.
Me: If you have ever laughed in your life (yes, even once) then you can make someone else laugh. Excuse: I try to be funny, but nobody gets it.
Me: Perfect! I'll help you understand why and what you can do.
Excuse: I'm a writer/illustrator. Not a comedian.
Me: Me too! But, the rules of good writing also apply to humor. Make your readers laugh, cry while reading your story. There will be exercises (not the running and sweating kind-eww!) for writers and illustrators. This workshop will be a safe place. Anything said or done will not be held against you. But prepare to be outrageous and silly and funny. And totally serious. And I will have chocolate. So… remember to bring me some!
Visit Rose Cooper's blog at rosecooperwriter.blogspot.com