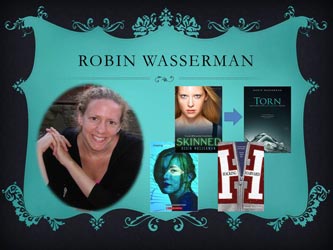 Robin Wasserman decided to be a writer when she realized no one would pay her to be a reader. (She was 7.) Since then, she's written the Cold Awakening trilogy, the Chasing Yesterday trilogy, Hacking Harvard, several Star Wars and Pokémon books, and the Seven Deadly Sins series, which was turned into a Lifetime movie. (That was, if you're wondering, the most amazing thing that's ever happened to her.) She lives in New York City, where she watches massive amounts of (often embarrassingly trashy) TV and is working on eating at every Italian restaurant in the city limits. Her new book, The Book of Blood and Shadow, comes out in January 2012.
---
2012 Cavalcade workshop: Brave New Worlds
What good is "write what you know" when you want to write a book set on Mars, or a thousand years in the future, or in a world populated by vampirehunting leprechauns? Whether your story is set in the distant future, the distant past, or some distant and magically-infested corner of Kentucky, you'll have to build your fictional world from scratch. But how? In this workshop we'll figure out how writers create fantastical worlds their readers believe in—and maybe even create one of our own.
Featured Books:
Awakening (Chasing Yesterday Series) by Robin Wasserman
grades 6-8
Found: One girl, age 13. Unconscious. Unharmed. Unclaimed. Unidentified. Lost: Everything.
J.D. may not know the truth about her past, but she knows she's in danger, and she can't shake the dark visions haunting her dreams. She won't be safe until she figures out who she is and where she came from. She can trust no one, not even herself—especially not herself. Because it turns out there's one thing even more terrible than forgetting her past: remembering.
Skinned (Soon to be renamed Torn) by Robin Wasserman
grades 9-12
Lia Kahn was perfect: rich, beautiful, popular-until the accident that nearly killed her. Now she has been downloaded into a new body that only looks human. Lia will never feel pain again, she will never age, and she can't ever truly die. But she is also rejected by her friends, betrayed by her boyfriend, and alienated from her old life. Forced to the fringes of society, Lia joins others like her. But they are looked at as freaks. They are hated…and feared. They are everything but human, and according to most people, this is the ultimate crime-for which they must pay the ultimate price.
Hacking Harvard by Robin Wasserman
grades 9-12
It's the ultimate challenge: breaking into the Ivy League. The hack: To get one deadbeat, fully unqualified slacker into the most prestigious school in the country. The crew: Eric Roth — the good guy, the voice of reason. Max Kim — the player who made the bet in the first place. Schwartz — the kid genius already on the inside…of Harvard, that is. Lexi — the beauty-queen valedictorian who insists on getting in the game. The plan: Use only the most undetectable schemes and techno-brilliant skills. Don't break the Hacker's Code. Don't get distracted. Don't get caught. Take down someone who deserves it. The stakes: A lot higher than they think. They've got the players, the plot, and soon — the prize. It's go time.
Book of Blood and Shadow by Robin Wasserman
grades 7-9
It was like a nightmare, but there was no waking up.  When the night began, Nora had two best friends and an embarrassingly storybook one true love.  When it ended, she had nothing but blood on her hands and an echoing scream that stopped only when the tranquilizers pierced her veins and left her in the merciful dark. But the next morning, it was all still true: Chris was dead.  His girlfriend Adriane, Nora's best friend, was catatonic. And Max, Nora's sweet, smart, soft-spoken Prince Charming, was gone. He was also—according to the police, according to her parents, according to everyone—a murderer. Desperate to prove his innocence, Nora follows the trail of blood, no matter where it leads. It ultimately brings her to the ancient streets of Prague, where she is drawn into a dark web of secret societies and shadowy conspirators, all driven by a mad desire to possess something that might not even exist. For buried in a centuries-old manuscript is the secret to ultimate knowledge and communion with the divine; it is said that he who controls the Lumen Dei controls the world. Unbeknownst to her, Nora now holds the crucial key to unlocking its secrets. Her night of blood is just one piece in a puzzle that spans continents and centuries. Solving it may be the only way she can save her own life.