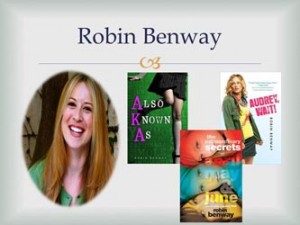 Robin Benway is an author, dog owner, and caffeine addict. She likes peonies, espresso, music, the sound of her dog snoring, any bookstore that has a cat, crossword puzzles, red nail polish, and the Beatles. She is scared of dinosaurs, sharks, and making eye contact with squirrels. When she's not writing books, she's reading other people's books. Or procrastinating.
Learn more about Robin Benway at www.robinbenway.com
---
2014 Workshop: Characterizing Characters: Building Them Up and Breaking Them Down
In this session, we'll talk about discovering your characters: how to find their voice,  discovering what they want most, and the one thing they don't want to happen…and how to make sure it does!
Featured books: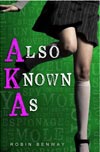 Also Known As by Robin Benway


grades 7-12
As the active-duty daughter of international spies, sixteen-year-old safe cracker Maggie Silver never attended high school so when she and her parents are sent to New York for her first solo assignment, Maggie is introduced to cliques, school lunches, and maybe even a boyfriend.
---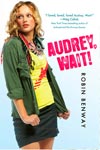 Audrey, Wait! by Robin Benway
grades 9-12
While trying to score a date with her cute co-worker, Audrey gains unwanted fame and celebrity status when her ex-boyfriend, a rock musician, records a breakup song about her that soars to the top of the Billboard charts.
---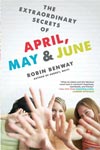 Extraordinary Secrets of April, May & June by Robin Benway
grades 9-12
Possessing respective supernatural abilities to see the future, disappear and read minds, sisters April, May and June work through a difficult period in their lives while struggling to protect their family from an imminent disaster.