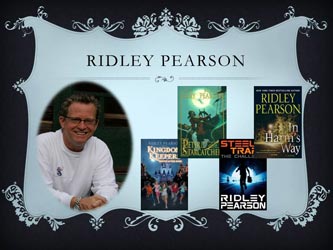 Ridley Pearson likes to climb trees – really tall trees – in his spare time. He says he's lucky not to have too much spare time! He also plays in a rock and roll band with some other authors which has gotten him on stage with Bruce Springsteen, among others. He's an Eagle Scout though doesn't remember getting a merit badge in writing. He's had a play and a movie made from his books. He co-writes books for younger readers with one of the funniest men on the planet, Dave Barry. He's the father of two girls… and you'll never guess their names: Paige and Storey. That's right: Paige and Storey. Do you think they'll ever forgive him? Maybe they will – he carries a VIP pass that's good for free entrance in any Disney theme park in the world.
---
2012 Cavalcade workshop: Writing Workshop based on Kingdom Keepers & Steel Trapp Series
He talks about the requirement in fiction for a "suspension of disbelief" and how he worked research into his fiction in order to accomplish this. He then shares several entertaining stories concerning his research for The Kingdom Keepers, trips that took him to Disney World for private tours when the park was closed.
Featured books:
The Challenge (Steel Trapp series) by Ridley Pearson
grades 5-8
In this riveting thriller, fourteen-year-old Steven "Steel" Trapp sets off with his mom and their dog, Cairo, on a two-day Amtrak journey to compete in the National Science Competition in Washington, D.C. Steel is both blessed and cursed with a remarkable photographic memory – just one look, and whatever he sees is imprinted for keeps. Trying to be a good Samaritan on the train, he unwittingly becomes embroiled in an ingenious international plot of kidnapping that may have links to terrorists. Federal agents (first seen in Pearson's adult thriller Cut and Run) track Steel and his newfound science geek accomplice, Kaileigh Augustine, as they attempt to put together the pieces of a complex puzzle. Using Steel's science contest invention – and with the help of Cairo – Steel and Kaileigh lead listeners on an action-packed chase adventure as they attempt to prevent the unimaginable, before it's too late.
Peter and the Starcatchers by Dave Berry and Ridley Pearson
grades 5-8
Don't even think of starting this book unless you're sitting in a comfortable chair and have lots of time. A fast-paced, impossible-to-put-down adventure awaits as the young orphan Peter and his mates are dispatched to an island ruled by the evil King Zarboff. They set sail aboard the Never Land, a ship carrying a precious and mysterious trunk in its cargo hold-and the journey quickly becomes fraught with excitement and danger. Discover richly developed characters in the sweet but sophisticated Molly, the scary but familiar Black Stache, and the fearless Peter. Treacherous battles with pirates, foreboding thunderstorms at sea, and evocative writing immerse the reader in a story that slowly and finally reveals the secrets and mysteries of the beloved Peter Pan.
Disney after Dark (Kingdom Keepers Series) by Ridley Pearson
grades 5-8
In this fantastical thriller, five young teens tapped as models for theme park "guides" find themselves pitted against Disney villains and witches that threaten both the future of Walt Disney World and the stability of the world outside its walls. Using a cutting-edge technology called DHI–which stands for both Disney Host Interactive and Daylight Hologram Imaging–Finn Whitman, an Orlando teen, and four other kids are transformed into hologram projections that guide guests through the park. The new technology turns out, however, to have unexpected effects that are both thrilling and scary. Soon Finn finds himself transported in his DHI form into the Magic Kingdom at night. Is it real? Is he dreaming?  Finn's confusion only increases when he encounters Wayne, an elderly Imagineer who tells him that the park is in grave danger. Led by the scheming witch, Maleficent, a mysterious group of characters called the Overtakers is plotting to destroy Disney's beloved realm, and maybe more.
Undercurrents by Ridley Pearson
Adult
Seattle is a city paralyzed by fear. A serial killer is loose on its streets. And as each new victim surfaces-chest slashed, eyes taped open-the tide of panic rises. Driven by guilt and frustration, too exhausted to consider stopping, Detective Lou Boldt thinks he's finally gotten the break he needs to end the Cross Killer's twisted spree. But each new clue contradicts another. And each new corpse mocks Boldt's efforts. To fathom the silent tale told by the latest corpse washed up in Puget Sound, Boldt has to go beyond every state-of-the-art method at his disposal. But as he gets closer to the truth, he travels deeper into the tortured mind of a relentless killer…into the depths of his own fear…and into a whirlpool of madness more frightening than his worst nightmares.
In Harm's Way by Ridley Pearson
Adult
Sun Valley sheriff Walt Fleming's budding relationship with photographer Fiona Kenshaw hits a rough patch after Fiona is involved in a heroic river rescue and she attempts to duck the press. Despite her job and her laudable actions, she begs Walt to keep her photo out of the paper, avoiding him when he can't. Then Walt gets a phone call that changes everything: Lou Boldt, a police sergeant out of Seattle, calls to report that a recent murder may have a Sun Valley connection. After a badly beaten body is discovered just off a local highway, Walt knows there is a link-but can he pull the pieces together in time?