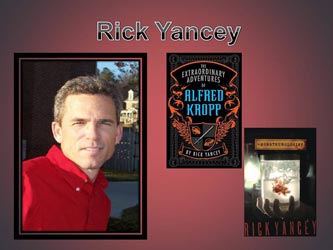 Since he was quite young, Rick Yancey knew he wanted to be a writer. After earning a degree in English from Roosevelt University in Chicago, Rick returned to his native Florida to pursue a career in the arts. While teaching part time and dabbling in the theater, he decided to take a job with the Internal Revenue Service, where he served as a revenue officer for over ten years. He continued to pursue his lifelong dream of being a full-time writer, however, finally leaving the IRS in 2004 upon the publication of his critically acclaimed memoir, Confessions of a Tax Collector. Rick is the proud father of three sons. He lives in Florida with his wife, Sandy.
---
2011 Cavalcade workshop: Believing in your Story
Rick Yancey discusses persevering through your writing. He encourages young people to keep pursuing their dreams and goals. Stories are shared from his experiences in writing the Alfred Kropp series and The Monstrumologist series.
Featured books:
The Monstrumologist by Rick Yancey
Gr. 8-12
In 1888, twelve-year-old Will Henry chronicles his apprenticeship with Dr. Warthrop, a scientist who hunts and studies real-life monsters, as they dis-cover and attempt to destroy a pod of Anthropophagi.
The Extraordinary Adventures of Alfred Kropp (series) by Rick Yancey
Gr. 6-12
Through a series of dangerous and violent misadventures, teenage loser Alfred Kropp rescues King Arthur's legendary sword Excalibur from the forces of evil.