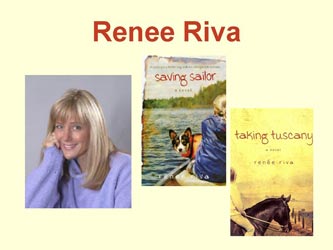 Renee Riva writes humorous stories with a message, for both children and adults. Having been raised in a large Italian family with a great sense of humor, she has much to draw from for developing quirky characters. A former greeting-card verse writer and popular speaker, Renee has two published picture books for children, and a trilogy for general audiences, ages 12 to one-hundred. Renee and her husband live in Richland, Washington, with their three daughters, a dog, a cat, and a baby box turtle named Buster.
---
2009 Cavalcade workshop: Turning real life into a fiction novel and how to add humor to your stories
Featured book:
Saving Sailor by Renee Riva
Publisher:  RiverOak Publishing
220 pp
The year is 1968. After spending the first half of summer vacation driving her Italian family crazy with her fake southern accent, 10-year old A.J. finds a soul mate on the other side of the island to divert her attention. She is intrigued to learn that Danny shares her same burning desire to know God and realizes that few people her age think as deeply as the two of them do. However, the depth of their newfound faith and friendship is soon tested when Danny's father betrays his wife. Set in a simpler time, Saving Sailor is a heartwarming tale of how hearts can change and relationships can be restored.
Renee Riva's website is at http://www.reneeriva.com/