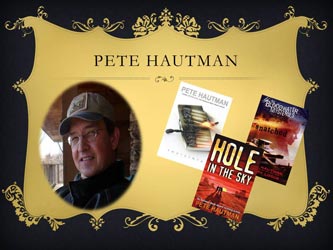 I was born in 1952 in Berkeley, California. I lived in the Bay Area until I was five, by which time I had three younger siblings. In 1958 we moved to St. Louis Park, Minnesota, where my parents continued to produce offspring. I now have four brothers and two sisters. I graduated honor-free from St. Louis Park High School. (This is so tedious. Why do you keep reading?) Later, I attended college for seven years, then left without graduating, knowing a little bit about nearly eve-rything, and a great deal about absolutely nothing. That superficial education now serves me well as a novelist. After college I worked various jobs for which I was ill-suited, including sign painter, graphic artist, marketing executive, painter cap salesman, pineapple slicer, etc. Eventually, having exhausted all my respectable options, I decided to write novels.
---
2012 Cavalcade workshop:
Pete Hautman writes science fiction, comedy, crime thrillers, love stories, mysteries, and books about peculiar religions. What's up with that? Why doesn't he write one kind of book – like, say, books about sparkly vampires, or a nearsighted wizard? Doesn't he want to be rich and famous? Pete will try to answer these and other questions about how and why he writes the stuff he writes. He will also talk about his new book, a romantic comedy called What Boys Really Want, and his upcoming sci-fi trilogy, The Klaatu Diskos
Featured books:
Snatched by Pete Hautman and Mary Logue
grades 6-9
From award-winning author pete Hautman and Mary logue comes a lively mystery series. when high school student Alicia Camden suddenly disappears, the small town of bloodwater is in shock. And it's up to roni Delicata, reporter for the school's Bloodwater Pump, and her brilliant sidekick, brian bain, to figure out what's going on. with suspects all around them and suspicions high, roni and brian risk their lives—and a few groundings from their parents—to get to the bottom of things. but can they find Alicia and solve the mystery before it's too late? Full of suspense and humor, readers will love to watch the hilarious relationship between roni and brian as they save the day.
Hole in the Sky by Pete Hautman
grades 7-10
In 2028 a deadly Flu virus ravages the Earth. Only one in two thousand survive the virus, and these "Survivors" are rarely left unaffected. By 2038, only thirty-eight million people remain on Earth. Most of them live in small communities, ever fearful of outsiders who might bring the deadly Flu. Ceej Kane lives with his uncle and his Survivor sister, Harryette, in an abandoned hotel on the rim of the Grand Canyon. His quiet, boring life suddenly becomes a desperate adventure when Uncle and Harryette disappear. Searching for them, Ceej and his only friend, Tim, are attacked by a renegade band of half-mad Survivors who spread the Flu to make more of their own. Worse yet, it appears that Harryette has joined them. Fleeing deep into the canyon., Ceej and Tim meet Bella, a mysterious Hopi girl. She has been searching for a mystical portal that the Hopi believe leads to another world. Tim thinks Bella is crazy, but Ceej is not so sure. Maybe there is a way out of this Flu-ravaged world.
Invisible by Pete Hautman
grades 7-10
Lots of people think Doug Hanson is a freak — he gets beat up after school and the girl of his dreams calls him a worm. Doug's only refuge is building elaborate model trains in his basement and hanging out with his best friend, Andy Morrow. Andy is nothing like Doug: He's a popular football star who could date any girl in school. Despite their differences, Doug and Andy talk about everything — except what happened at the Tuttle place a few years back.  As Doug retreats deeper and deeper into his own world, long-buried secrets come to light — and the more he tries to keep them invisible, the looser his grip on reality becomes. In this fierce, disturbing novel, Pete Hautman spins a poignant tale about inner demons, and how far one boy will go to control them.
The Big Crunch by Pete Hautman
grades 8-12
A funny, clear-eyed view of the realities of teenage love from National Book Award winner Pete Hautman. Jen and Wes do not "meet cute." They do not fall in love at first sight. They do not swoon with scorching desire. They do not believe that they are instant soul mates destined to be together forever. This is not that kind of love story. Instead, they just hang around in each other's orbits…until eventually they collide. And even after that happens, they're still not sure where it will go. Especially when Jen starts to pity-date one of Wes's friends, and Wes makes some choices that he immediately regrets. This is a love story for people not particularly biased toward romance. But it is romantic, in the same way that truth can be romantic and uncertainty can be the biggest certainty of all.
How to Steal a Car by Pete Hautman
grades 8-12
From National Book Award winner Pete Hautman, the story of a girl who acts out by stealing cars.  Some girls act out by drinking or doing drugs. Some girls act out by sleeping with guys. Some girls act out by starving themselves or cutting themselves. Some girls act out by being a bitch to other girls.  Not Kelleigh.  Kelleigh steals cars.  In How to Steal a Car, National Book Award winner Pete Hautman takes teen readers on a thrilling, scary ride through one suburban girl's turbulent life – one car theft at a time.
Rash by Pete Hautman
grades 8-12
Consumption of alcohol: Illegal. Football and other "violent" sports: Illegal. Ownership of guns, chain saws, and/or large dogs: Illegal. Body piercings, tattoos: Illegal. It's late in the twenty-first century, and the United Safer States of America (USSA) has become a nation obsessed with safety. For Bo Marsten, a teenager who grew up in the USSA, it's all good. He knows the harsh laws were created to protect the people. But when Bo's temper flares out of control and he's sentenced to three years of manual labor, he's not so down with the law anymore. Bo's forced to live and work in a factory in the Canadian tundra. The warden running the place is totally out of his mind, and cares little for his inmates' safety. Bo will have to decide what's worse: a society that locks people up for road rage, or a prison where the wrong move could make you polar bear food.
Overcoming Violence Against Women and Girls by Pete Hautman
Adult
A vivid overview of the scope of the problem of gender-based violence worldwide, and a sense of the important work now underway to eradicate it.