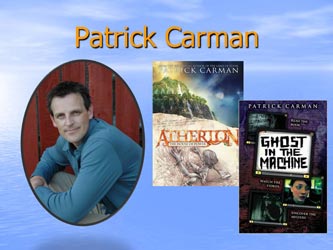 Patrick Carman is the award-winning author of many books for young adults and children.  He grew up in Salem, Oregon and graduated from Willamette University.  He worked in advertising, game design, and technology.  He has been a life-long writer and storyteller.  Mr Carman lives in Walla Walla, Washington spending his free time supporting literacy campaigns and community organizations, mountain biking, fly fishing, doing crosswords, playing Scrabble and basketball, reading and (more than anything else) spending time with his wife and two daughters.
---
2010 Cavalcade workshop: Ideas
Where does an author get his ideas?  Mr. Carman will be teaching key writing skills while entertaining students with stories of his childhood and dozens of visuals.  Learn to find humor in your daily life.  Come join the fun and laugh with Patrick Carman.
Featured books:
Atherton:  House of Power by Patrick Carman
Publisher:  Little, Brown Young Readers
384 pp
Gr. 7 – 10
The world of Atherton consists of three distinct, interconnected lands stacked atop each other like a layer cake. At the top are the Highlands, home to Atherton's rich and oppressive ruling class; the middle layer is the Flatlands, populated by Atherton's subservient working class; the bottom layer is The Wastelands where none dare venture, for the few that have done so have never been heard from again. When the three worlds inexplicably begin to collapse into each other, and the Highlands and Flatlands prepare for war, it may well be young, insatiably curious Edgar who holds the key to Atherton's survival.
Ghost in the Machine by Patrick Carman
Publisher:  Scholastic, Inc.
192 pp
Gr. 6 – 10
Strange things are happening in Skeleton Creek…and Ryan and Sarah are trying to find out why. Ryan writes down everything in his journal, and Sarah records everything on her videocam. The two move deeper into the mystery they've uncovered, determined to discover the secrets buried in Skeleton Creek, in the conclusion to Patrick Carman's thrilling series.
You can visit Patrick's website:  http://www.patrickcarman.com
To contact Patrick, you can e-mail him:  fanmail@patrickcarman.com