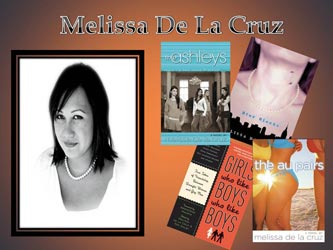 Melissa de la Cruz grew up in Manila and moved to San Francisco with her family, where she graduated high school salutatorian from The Convent of the Sacred Heart. She majored in art history and English at Columbia University She has worked as a fashion and beauty editor and has written for many publications including The New York Times, Marie Claire, Harper's Bazaar, Glamour, Cosmopolitan, Allure, The San Francisco Chronicle, McSweeney's, Teen Vogue, CosmoGirl and Seventeen. She now divides her time between New York and Los Angeles, where she lives in the Hollywood Hills with her husband and daughter.
---
2011 Cavalcade workshop: How to Outline a Novel
The Students and Melissa de la Cruz will work together to outline a novel. Enjoy the fun with Melissa as you learn the essentials of any good novel.
Featured books:
The Blue Bloods (series) by Melissa De La Cruz
Gr. 8-12
Schuyler Van Alen, a loner at a prestigious New York City private school, sets out to learn the secrets of the Blue Bloods, an ancient group of vampires.
Girls Who Like Boys Who Like Boys: True Tales of Love by Melissa De La Cruz
Adult
This collection of original essays goes beyond the banter to get to the essence of an intimate relationship like no other. In addition to stories of gays and gals bonding over brunch, these essays chronicle love and lust, infatuation and heartbreak, growing up and coming out, and family and children. With genuine warmth, this definitive anthol-ogy proves that more durable than diamonds, straight women and gay men are each other's true best friends.
The Au Pairs (series) by Melissa De La Cruz
Gr. 9-12
Three teenage girls from different backgrounds work for a summer in the Hamptons as au pairs for a wealthy family. In spite of many ups and downs, all three end up changing for the better.
The Ashleys: There's a New Name in School by Melissa De La Cruz
Gr. 6-8
Lauren Page, having changed her style from discount bargain clothes to couture fashions, decides to infiltrate the most popular group of girls at Miss Gamble's Preparatory School for Girls. The fun begins when Lauren decides to get revenge for how she was treated.