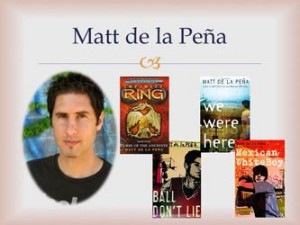 Matt de la Peña was born in San Diego, California, way down by the Mexican border. His dad's Mexican and his mom's white, and he writes a lot about mixed race kids. He played basketball in college at the University of the Pacific where he studied psycholo-gy and English and tried to talk to as many pretty girls as he could. He's very, very weary of spiders and people with big heads. He likes eating burritos.
Read more about Matt de la Peña on his website www.mattdelapena.com
---
2014 Workshop: Reading and Writing on the Wrong Side of the Tracks
Not everyone is born in a big house in the suburbs with shelves full of books everywhere. Some kids grow up with nothing. And their lives are just as valid and interesting, both in and out of fiction. In my session we'll discuss writing characters who are growing up on the "wrong side of the tracks"? We'll discuss the mistakes they make along the way, as well as their moments of grace and dignity. I'll use myself as a case study.
Featured books: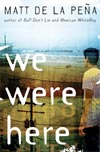 We Were Here by Matt de la Peña
grades 8-12
Ordered to write in a journal while completing his sentence in a group home, Miguel expresses feelings that make others aware of the terrible living conditions he endured at home, providing valuable insight into why he suddenly felt the need to flee to Mexico to start a new life.
---
I Will Save You by Matt de la Peña
grades 9-12
Seventeen-year-old Kidd Ellison runs away to work for the summer at a beach campsite in California where his hard work and good looks lead to friendship and love but painful past memories surface in menacing ways.
---

Ball Don't Lie by Matt de la Peña
grades 8-12
Raised in the foster system, Sticky has an attitude that is unwelcoming to all who approach. Determined to make his way in the world, Sticky heads to the basketball court where he learns that his skills as a player and his will to succeed in life is all he really needs to find his own way in the world.
---

Mexican White Boy by Matt de la Peña
grades 9-12
Danny, who is tall and skinny but has a talent for pitching a fastball, cannot seem to fit in at school in San Diego, where his Mexican and white heritage causes people to judge him before he even speaks.
---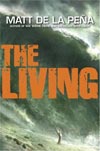 Living by Matt de la Peña
grades 7-12
Shy took the summer job on a luxury cruise liner, now he'll be able to help his mom and sister out with the bills. Everything changes when the Big One hits. Shy's only weeks out at sea when an earthquake more massive than ever before recorded hits California, and his life is forever changed. Suddenly it's a fight to survive for those left living.
---

Curse of the Ancients by Matt de la Peña
Infinity Ring series, book #4
grades 5-8
The fourth Infinity Ring episode sends time-traveling youths Sera, Dak, and Riq first back to the early days of the Mayan civilization and then forward 800 years to witness the fiery destruction of its native culture by the Spaniards. Carrying out their mission to save an ancient codex entails narrow squeaks aplenty and clashes with the archenemy, Time Wardens.