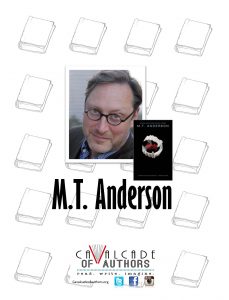 M. T. Anderson, author of books ranging from comic fantasy adventure to Gothic historical fiction, has just purchased a haunted house very cheaply. What could go wrong? In the past, he has journeyed into the Taklamakan Desert with friends to find the ruins of an ancient temple to a rat god, and has attended a group exorcism on the island of Java. He is looking forward to settling down in the new house, despite the reports of nocturnal sobbing outside the upstairs windows.
2017 Workshop: Some Secrets of Building a Plot
In this workshop, we'll talk about some of the ways authors structure plots — and build some of our own based on traditional models. Then we'll ask when these models are useful — and when they just get in the way.