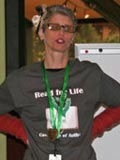 When Lorie Ann Grover grew to be six feet tall, everyone knew male dancers in the ballet company would have a hard time lifting her off the floor. Instead of plies and pirouettes, she now Repulses the Monkey, becomes the White Tiger Who Plays With Tail and stands as the Immortal Fairy Who Points the Way when she practices weapons tai chi. In her Doc Martens. Sitting down to write, she commiserates with teens and laughs with babies. And vice versa.
Lorie Ann is a co-founder of readergirlz www.readergirlz.com and readertotz.
You can visit Lorie Ann's website:  http://www.lorieanngrover.com
To contact Lorie Ann you can e-mail her at:  lorieanngrover@clearwire.net
---
2016 Workshop: PROSE TO POETRY:  Writing in Verse
Novelist Lorie Ann Grover leads those interested in writing from their own life experiences. With young adult novels springing from her own history, she'll guide students in capturing their memories, writing in prose, and then converting the work into a verse format. No poetry experience necessary!
Featured books: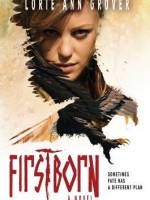 by Lorie Ann Grover
When Tiadone was born, her parents had two choices: leave their daughter outside the community to die, or raise her as male. Now, as the first female living as male in her village, Tiadone must prove her father didn't make a mistake by letting her live. As her male initiation approaches, she desperately wishes to finally be accepted. Worse, she is drawn to her male best friend in ways that are in line with the female gender. Tiadone tries to become what she must be while dealing with what she has become: a young woman able to stand up and uncover her real purpose in life. (gr 7 and up)