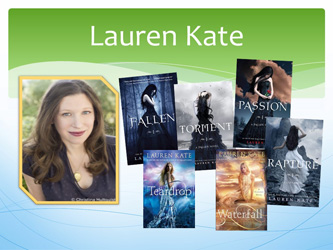 Lauren Kate is the author of the Fallen novels, the Teardrop novels, and the Betrayal of Natalie Hargrove. Her works have been translated into over 30 languages. She lives in Los Angeles with her family. She has a daughter named after her favorite book and a son named after her favorite city. Her novel, Fallen, is currently being made into a movie.
Online visit  http://laurenkatebooks.net/
---
2015 Workshop: How Does It Feel?
You and your best friend are looking out a diner window, watching the same guy cross the street. You see a gawky
dweeb who needs to stop letting his mom dress him. Your friend sees her dream date to the prom. The way
each of us views the world is unique, determined by our past, our desires, and our emotions—in other words, our
point of view. Find your voice—and your narrator's voice—in this workshop on point of view led by #1 New
York Times Bestselling author, Lauren Kate.
Featured books: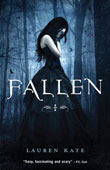 Fallen (Fallen #1) by Lauren Kate (grades 8-12)

Following a devastating fire that leaves her best friend dead, 17-year-old Lucinda "Luce" Price is left to shoulder the blame and is sent to the Sword and Cross Boarding School. Despite being haunted by odd shadows everywhere she goes, Luce finds a love interest in the attractive Daniel but can't seem to shake the feeling that she's seen him before.
---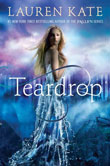 Teardrop (Teardrop #1) by Lauren Kate ( grades 8-12)
Since Eureka's mother drowned, she wishes she were dead too, but after discovering that an ancient book is more than a story Eureka begins to believe that Ander is right about her being involved in strange things–and in grave danger.