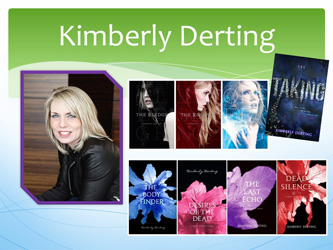 Kimberly Derting once wanted to be a "foxy lady trucker" but changed her mind when she took seventh grade journalism, and hasn't looked back since. These days, she watches WAY too much TV, orders 20# boxes of Nerds gumballs off the internet, and loves to complain about the rain even though she lives in Seattle where it rains ALL the time!
Visit Kim Derting's website at http://www.kimberlyderting.com/
---
2015 Workshop: Keep Your Readers on the Edge of Their Seats – How to Create Suspense on the Page
From that (breathtaking!) first kiss to discovering a killer hiding under the bed, Kimberly Derting will show you how authors ratchet up tension on the pages to keep you coming back for more!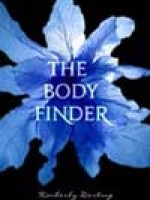 by Kimberly Derting

High school junior Violet uses her uncanny ability to sense murderers and their victims to try to stop a serial killer who is terrorizing her town. Although her best friend and would-be boyfriend Jay promises to keep her safe, she becomes a target. (Gr 7-12)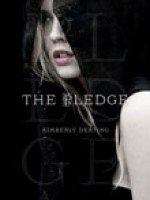 The Pledge (The Pledge #1)
by Kimberly Derting

In the violent country of Ludania, the language you speak determines your class, and there are harsh punishments if you forget your placelooking a member of a higher class in the eye can result in immediate execution. Seventeen-year-old Charlaina (Charlie for short) can understand all languages, a dangerous ability she's been hiding her whole life. (Gr 8-12)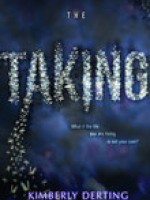 The Taking (The Taking #1)
by Kimberly Derting

Sixteen-year-old Kyra Agnew wakes up with a headache behind a gas station dumpster with no memory of how she got there. When she goes home she is shocked to find that five years have passed since her last memory, and everything about her family has changed. (Gr 8-12)