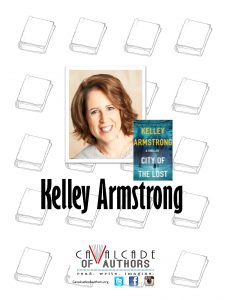 Kelley Armstrong has been telling stories since before she could write. Her earliest written efforts were disastrous. If asked for a story about girls and dolls, hers would invariably feature undead girls and evil dolls, much to her teachers' dismay. All efforts to make her produce "normal" stories failed. Today, she continues to spin tales of ghosts and demons and werewolves, while safely locked away in her basement writing dungeon. She's the author of the The Masked Truth teen thrillers, "Age of Legends" high fantasy series, "Darkest Powers" & "Darkness Rising" teen paranormal trilogies and co-author of "The Blackwell Pages" middle-grade fantasy adventure trilogy, She lives in Ontario, Canada, with her husband, kids and far too many pets.
http://www.kelleyarmstrong.com/
2017 Workshop: Picking up the Pace
"I couldn't put it down," is one of the best compliments an author can get. This workshop will focus on ways to keep readers up into the night, turning the pages. Kelley will provide tips and strategies for hooking readers from the first chapter and carrying them through to the last.