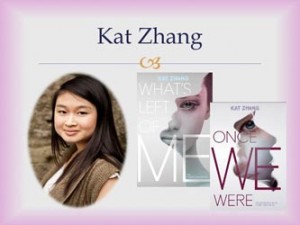 Kat Zhang grew up writing scripts for her stuffed animals and asking strange questions. At age 22, she writes both scripts and novels and most of them develop from equally weird questions. Her series, The Hybrid Chronicles, all started when she asked herself "What would it be like to have 2 souls?" One of the coolest things that ever happened to her was when magician David Copperfield made her disappear (she did come back).
Learn more about Kat Zhang at www.katzhangwriter.com
---
2014 Workshop: The Birth of a Book
Learn about the journey of a book from initial idea all the way to when it shows up on the shelf–as well as all the different people who are involved in the process! How are covers chosen? What about titles? How much does the original story change before it's published? And what is it really like to be an author?
Featured books:

What's Left of Me by Kat Zhang


Hybrid Chronicles, book #1
grades 8-12
Addie and Eva are two sisters born into the same body, and although Eva's soul was supposed to fade away, she still lingers beside Addie's dominant soul, until they meet someone who can change everything for the pair.
---

Once We Were by Kat Zhang


Hybrid Chronicles, book #2
grades 8-12
Addie and Eva start to wonder: "How far are they willing to go to fight for hybrid freedom?" Faced with uncertainty and incredible danger, their answers may tear them apart forever.