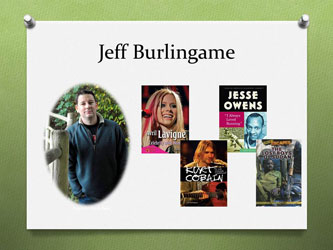 Jeff Burlingame lost one of the most prestigious awards on the planet to former Secretary of State Condoleezza Rice (but won the same award the following year!) and has spoken with some of the most famous people in the world. Even so, Jeff still spends most of his time (and prefers to!) in his home office researching, reading, and writing books of all types – including celebrity biographies and other nonfiction for teens – and for all ages, including (gulp!) adults. Jeff has spoken at the Washington state capitol, appeared on MTV, and has been a featured author on A&E's popular "Biography" television series. Jeff also is the cofounder of the non-profit Kurt Cobain Memorial Foundation. In his spare time, he likes to hike, camp, listen to and play music, read, and travel.
Learn more about Jeff Burlingame at www.jeffburlingame.com
---
Jeff Burlingame's 2013 workshop: CELEBRITY TRUTHS ARE STRANGER THAN FICTION:
Making up stories can be fun, but NAACP Image Award winning author Jeff Burlingame finds it more fascinating to write about those whose lives are so remarkable he doesn't need to make up anything to tell a captivating, interesting story. Jeff makes his living studying and writing books about celebrities and other noteworthy people – from Kurt Cobain to Taylor Swift, John Lennon, Malcolm X, and Demi Lovato – and he'll share with you the secrets of creating quality journalism using the truth and only the truth. Jeff believes everyone has a story to tell.
---

Avril Lavigne by Jeff Burlingame
Grades 5-8
Pages: 112
Avril Lavigne's unique sound, mixing pop and punk, has made her one of the top-selling recording artists of the last decade. More importantly, however, she is a dedicated supporter of charitable causes. Most notably, she has contributed to Amnesty International, Make-A-Wish Foundation, and War Child.

Taylor Swift by Jeff Burlingame
Grades 5-8
Pages: 48
Singer, songwriter, Grammy winner. Although it may seem like Taylor Swift became a superstar overnight, she really started singing and writing songs when she was eleven. She kept doing what she thought was right until her big break, and she's now a household name. This fun-to-read book offers reluctant readers juicy quotes, personal stories, and accessible features such as a timeline and glossary.

Jessie Owens: I Always Loved Running by Jeff Burlingame
Grades 6-9
Pages: 128
In 1936, in front of 110,000 spectators at the Olympic Stadium in Germany, Jesse Owens blew away the competition in the 100-meter final to claim the title of "World's Fastest Man." He won the gold medal in front of Germany's brutal dictator, Adolf Hitler, defying the Nazi leader's racist ideology. Owens won three more gold medals at the Olympics and returned to the United States a hero. Author Jeff Burlingame explores the life of one of the greatest and most influential athletes in American history, from his humble childhood to his legacy on and off the track.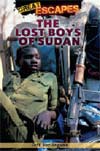 Lost Boys of Sudan by Jeff Burlingame
Grades 6-8
Pages: 80
How did anyone manage to escape from the Nazi death camps or the killing fields of Cambodia? Great Escapes presents gripping accounts of narrow escapes to illuminate historical events from a distinct, personal perspective. Here are the brave individuals caught in history's worst atrocities—and their amazing will to survive. David Bol, one of Sudan's many "lost boys," tells of his four-month trek across Ethiopia to a refugee camp during a horrific civil war. William Wells Brown depended on the station masters on the Underground Railroad to help him escape to the North and to freedom from slavery. Jewish prisoners Rudolf Vrba and Alfred Wetzler smuggled out proof of Nazi extermination practices, outrunning German bullets to "tell everyone about Auschwitz." Primary sources add drama to each compelling narrative while the text addresses the broader significance of the event, the social issues at stake, and how society continues to be affected.

Titanic Tragedy by Jeff Burlingame
Grades 7-12
Pages: 111
History is shaped by events and people. Through studying history we come to understand how things change, learn to grasp the factors that cause this change, and begin to understand what parts of society remain constant despite change. Each title in Perspectives On investigates an historical event and iùCcs, with the help of primary sources such as eyewitness accounts and commentary, differing viewpoints of each event. Factors leading up to the event, and the event's effect on the culture and people at that time, will be explored, as well as the event's lasting effects and historical significance.

Prisons by Jeff Burlingame
Grades 9-12
Pages 143
Prisons have existed in the United States since the time of the thirteen colonies. Today, the United States incarcerates more people than any other country in the world. It is also the only Western nation that still has the death penalty. With prisons overflowing, and budgets shrinking, the question of whether prisons are meant to punish or rehabilitate has become ever more pressing. In Prisons, author Jeff Burlingame explores the history of prisons, as well as such current problems as the rising cost of health care and vocational training for inmates, and the debate over what kind of treatment those guilty of crimes against society deserve.

Edgar Allen Poe by Jeff Burlingame
Grades 8-12
Pages 128
Despite Edgar Allan Poe's brilliant career as a poet and short-story writer, he constantly battled poverty, alcoholism, and family problems. His famous poem "The Raven" brought him acclaim during his life, but his legacy as the father of detective and horror stories would not come until after his mysterious death. Author Jeff Burlingame explores the life of this troubled author, his famous works, and his lasting impact on American literature.

Kurt Cobain by Jeff Burlingame
Grades 9-12
Pages 160
Kurt Cobain loved music, and it did not take long for him to realize all he wanted to do in life was play and write songs. When he and his band, Nirvana, became part of the Seattle music scene, more and more people were able to listen to and appreciate his music. Ultimately, dissatisfaction with fame and a dependence on heroin resulted in his suicide. Author Jeff Burlingame, who personally knew Cobain, explores the rock legend's too-brief life, his revolutionary music, and the enduring legacy he left behind.