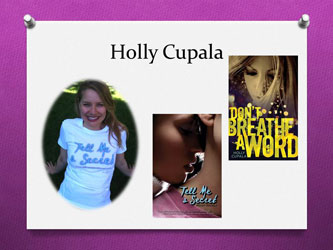 Holly Cupala wrote teen romance novels before she actually experienced teen romance. After she did, it became all about tragic poetry and slightly less tragic novels. When she isn't writing and making art, she spends time with her husband, daughter and son in Seattle, Washington. These days, her writing is less about tragedy and more about hope. Her novels are Tell Me a Secret and Don't Breathe a Word, and she is currently working on another. Ten percent of her author proceeds go toward World Vision's Hope for Sexually Exploited Girls.
Learn more about Holly Cupala at www.hollycupala.com
---
Holly Cupala's 2013 Workshop: SECRETS, SUSPENSE AND HIDDEN TRUTHS: Creating Characters Who Make You Want to Turn the Page :
Is your character a parfait or an onion? Whether your story is fun or freaky, dark or dreamy, we'll peel back the layers of how to write characters who will grip your readers to the very last sentence.
---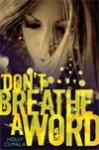 Don't Breathe A Word by Holly Cupala
Grades 9-12
Pages 299
Joy Delamere is suffocating from severe asthma, overprotective parents, and an emotionally-abusive boyfriend when she escapes to the streets of nearby Seattle and falls in with a "street family" that teaches her to use a strength she did not know she had.
---

Tell Me A Secret by Holly Cupala
Grades 9-12
Pages 292
In the five years since her sister's death, Miranda has wondered about the secrets surrounding the night Xanda died. But after living in her sister's shadow for so long, Miranda discovers she now has a secret all her own.