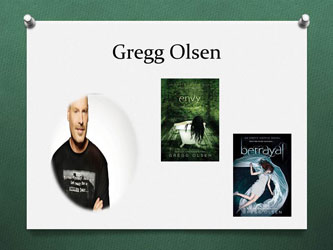 I have been to prison more times than I care to count. I have corresponded and visited with some of the most famous killers in America (including Ted Bundy).
Visit Gregg Olsen's website at www.greggolsen.com
---
Gregg Olsen's 2013 Workshop: KEEPING IT REAL: Spinning True Crime into
Fiction:
New York Times and USA Today bestselling author Gregg Olsen will share insights keeping things authentic in crime fiction — by sharing some of his true crime stories and the roles they play in making his fiction as real as possible. Says Gregg: "If you want to know how the mind of the murderer works, you have to ask a killer." Gregg will spotlight a couple of his true crime stories (crime scene photos, anyone?).
---
---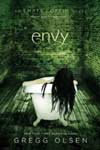 Envy (Empty Coffin series) by Gregg Olsen
Grades 8-12
Pages 285
Murder is such a dirty word… New York Times bestselling adult true crime author Gregg Olsen makes his YA debut with Empty Coffin, a gripping new fiction series for teens based on ripped-from-the-headlines stories…with a paranormal touch. Crime lives–and dies–in the deceptively picture-perfect town of Port Gamble (aka "Empty Coffin"), Washington. Evil lurks and strange things happen–and 15-year-olds Hayley and Taylor Ryan secretly use their wits and their telepathic "twin-sense" to uncover the truth about the town's victims and culprits. Envy, the series debut, involves the mysterious death of the twins' old friend, Katelyn. Was it murder? Suicide? An accident? Hayley and Taylor are determined to find out–and as they investigate, they stumble upon a dark truth that is far more disturbing than they ever could have imagined. Based on the shocking true crime about cyber-bullying, Envy will take you to the edge–and push you right over.

Betrayal (Empty Coffin series) by Gregg Olsen
Grades 8-12
Pages 288
---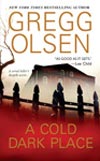 A Cold Dark Place by Gregg Olsen
Grades 9-12
Pages 384
When a powerful twister hits the little town of Cherrystone, Wash., former Seattle homicide detective Emily Kenyon checks in on the Martins: she finds their home demolished by the storm, and three of the four family members murdered by a demented killer. Suspiciously missing from the carnage is older son Nick, but is he a witness or the murderer? And Emily soon finds that her teenage daughter, Jenna, has run off with Nick in order to help him clear his name. What Emily doesn't know is that the Martin family deaths are connected to a series of murders going back two decades, and are linked to a case from her own past whose tragic outcome ultimately drove her out of the Seattle police force. (Publishers Weekly)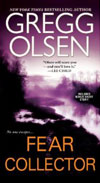 Fear Collector by Gregg Olsen
Grades
Pages 320