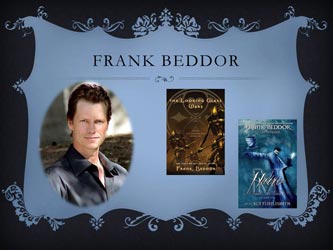 Frank Beddor had scaled the heights of professional skiing (as a two-time freestyle world champion) and filmmaking (as producer of the 1998 hit "There's Something About Mary" – not to mention being a stuntman and actor) before deciding to become an author (of the New York Times best seller "The Looking Glass Wars," the first volume of a like-titled trilogy). This transformation was born of "an odd, empty feeling" and a serendipitous whisper of inspiration.
---
2012 Cavalcade workshop: The Mantra of Interconnectivity Meets the Mandala of the Looking Glass Wars Universe
Frank Beddor discusses how the "beyond the book"
activity affects the story and success of the book.

In addition to the LGW trilogy already released, there
are comic books, card games, soundtrack, an online
game/society to join, and more associated with the
world created for the book series. This interactivity
between the written word and its extended life is the
focus of Mr. Beddor's presentation.
Featured books:
The Looking Glass Wars by Frank Beddor
grades 6-8
Alyss Heart, heir to the Wonderland throne, was forced to flee through the Pool of Tears after a bloody coup staged by her murderous aunt Redd. Lost and alone in Victorian London, Alyss is befriended by an aspiring author to whom she tells the surreal, violent, heartbreaking story of her young life. Alyss had trusted Lewis Carroll to tell the truth so that someone, somewhere would find her and bring her home. But Carroll had gotten it all wrong. He even misspelled her name! If not for Royal Bodyguard Hatter Madigan's nonstop search to locate the lost princess, Alyss may have become just another society woman sipping tea in a too-tight bodice instead of returning to Wonderland to fight Redd for her rightful place as the Queen of Hearts.
Far From Wonder by Frank Beddor
grades 6-8
New edition of Volume 1 of the Hatter M: The Looking Glass Wars series featuring two bonus chapters, a new subtitle ("Far From Wonder"), a new cover and more! Hatter Madigan's relentless search for the lost Princess of Wonderland unfolds in Volume 1 of the Hatter M graphic novel series as he starts his 13-year quest crisscrossing the globe. Illustrated with the realm jumping art of Ben Templesmith.
Hatter M by Frank Beddor
grades 7-12
Based on Beddor's The Looking Glass Wars trilogy, this graphic novel series follows the story of Hatter Madigan, expert bladesman, high ranking Millinery man, and Royal Bodyguard of Wonderland as he searches for Princess Alyss. Before Queen Genevieve was beheaded, she ordered Hatter to protect her daughter, but when he takes Alyss through the Pool of Tears, he loses her. Hatter finds himself in 1859 Paris missing both Alyss and his signature hat, a weapon complete with blades. He travels to Budapest on the trail of a "Princess" kidnapped by Baroness Dvonna, who runs an orphanage that drains children of their imaginations. Hatter believes it could be Alyss and sets out to destroy Baroness Dvonna and her "Night Walkers." Hatter's unfamiliarity with human customs keeps him in constant battle mode, fighting many foes who underestimate his prowess – knives and blades shoot out of him either shocking or killing his opponents.