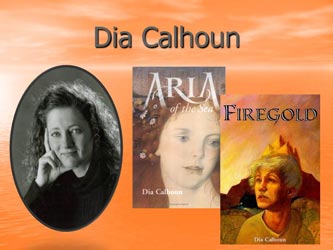 Dia Calhoun grew up in Seattle, Washington, where she studied ballet for many years. She graduated Phi Beta Kappa from Mills College with a double major in English and Book Arts. Calhoun returned to Seattle to build a successful career as a freelance lettering and logo artist. Her most visible work is the logo for "Alaska" on the side of Alaska Airlines' aircraft. She also taught typography and lettering at the Cornish College of the Arts.
Now a full time writer, Calhoun makes frequent school visits to share her work with kids. In her spare time she sings Italian arias, fly-fishes, gardens, and eats lots of chocolate. She lives with her husband, two cats, and two ghost cats in Tacoma, Washington.
---
2010 Cavalcade workshop: Fantasy Writing
Dia Calhoun, award winning fantasy author, presents a Fantasy Writing Workshop for 5th-8th graders. She uses the question and answer method and the elements of a fantasy story–magic portals, magic objects, magic helpers, villains, quests, familiars, and the return–to show students how to write fantasy stories of their own. At the end of the workshop, each student will have the beginning of a fantasy story of his or her own.
Featured Books:
Aria of the Sea, by Dia Calhoun
Publisher: Farrar, Straus and Giroux
272 pp
Gr. 6 & Up
Cerinthe chooses to train as a healer rather than a dancer. When her healing powers fail to save her mother, Cerinthe attends The School of Royal Dancers. Now miserable, it takes an ill-fated rivalry with an aristocratic classmate Elliana to make her realize what she really wants. When the rivalry between the two girls causes a terrible accident, Elliana's life hangs in the balance. Cerinthe faces the same awful choice she had faced with her mother: Should she try to heal Elliana herself or hope that the mederi arrives in time? Only the song of the Sea Maid holds the answer.
Firegold by Dia Calhoun
Publisher: Winslow Press
320 pp
Gr. 6 – 9
Everyone in the Valley has brown eyes–except 13-year-old Jonathon. Ugly rumors about Jonathon's beautiful red-haired mother are surfacing among the self-righteous Valley folk, as are whispers about her son. He's beginning to worry that he's a "loony-blue," one of the blue-eyed, red-headed Dalriada–the much-feared mountain people who have magnificent horses, mystical powers, and horns growing out of their foreheads. After his mother's sudden death, the whispers grow to angry threats, and Jonathon escapes the Valley and goes in search of his heritage, his manhood, and his true love. In the mountains he experiences a mystical rite of passage that takes him to the Dalriada encampments, through caves echoing with his own spirit voices, to the very top of the world. From the mountain peak he carries back one of the legendary Firegold apples–a gift that brings reconciliation with his father and his rightful home among the Valley people.
You can visit Dia's website:  http://diacalhoun.com
To contact Dia e-mail her at: diacalhoun@msn.com