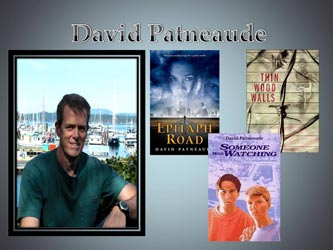 David Patneaude finally heeded the advice, "It's never too late to have a happy childhood," and began writing seriously (more or less) in the mid 1980's. His first novel, Someone Was Watching, was published in 1993. His books have been placed on more than thirty state young readers' lists and honored by the New York Public Library (The Last Man's Reward), the Society of School Librarians International (Framed in Fire), the Winnetka (Illinois) Public Library's "One Book, Two Villages" program (Thin Wood Walls), and the Washington State Public Library (Thin Wood Walls). His newest book, Epitaph Road, was published to strong reviews in March 2010. When he's not sitting in a coffee shop writing, or at a school or library or conference talking about writing, or out on the running trail thinking about writing, he's at home in Woodinville, Washington with his wife Judy, a junior high librarian.
---
2011 Cavalcade workshop: Once a Writer, Always a Reader
All the writers I know have one thing in common: We read! We read for enjoyment and inspiration and knowledge and because our fellow writers have asked us for feedback on something they've written. But we also read to make ourselves better writers. In this workshop I will talk about my journey as a writer and the development of ideas, and discuss an objective method for evaluating one's own writing, critiquing the writing of others, and using the results to focus the revising process and improve future writing efforts.
Featured books:
Epitaph Road by David Patneaude
Gr. 6-10
In 2097, men are a small and controlled minority in a utopian world ruled by women. Fourteen-year-old Kellen must fight to save his father from an outbreak of the virus that killed 97 percent of the male population thirty years earlier.
Thin Wood Walls by David Patneaude
Gr. 6-12
When the Japanese bomb Pearl Harbor, Joe Hamada and his family face growing prejudice. Eventually they are torn away from their home and sent to a relocation camp in California, even as his older brother joins the United States Army to fight in the war.
Someone Was Watching by David Patneaude
Gr. 6-8
When his baby sister disappears from the river near their summer home, eighth grader Chris fights the assumption that her sister has drowned. Soon, he uncovers evidence that something entirely different has happened to her.