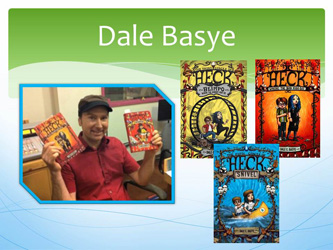 Dale E. Basye (a subsidiary of his parents) has written stories, screenplays, essays, reviews, and outright lies for many publications and organizations. He was a film critic for Willamette Week, winning several national journalism awards, and published an arts and entertainment newspaper called Tonic. His first book, Heck: Where the Bad Kids Go received a starred review from Publisher's Weekly, and was nominated for a Borders Original Voices award. He has since written seven Circles of Heck books and all, with the latest—Wise Acres: The Seventh Circle of Heck— published by Random House last Christmas. Basye lives in Portland, Oregon with his wife and son, and must, on a daily basis, wage life or death struggles with grizzly bears, nettled beavers, and inconsistent Wi-Fi signals.
Visit Dale Basye online at http://www.wherethebadkidsgo.com/
---
2015 Workshop: Become a Heck of a Good Writer!
Dale E. Basye— author of the Random House Children's Books Circles of Heck series—will drag you, kicking and scheming, through the nine circles of Heck, with fun exercises along the way to help young writers hone their craft. Sure: Heck may be where the darned toil for all eternity (or until they turn 18, whichever comes first) but this fast-paced workshop is sure to engage bad boys, less-than good girls, and any budding storyteller looking for pointy tips and crafty tricks to get those writing juices flowing!
Featured books: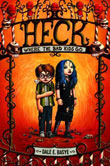 Heck: Where the Bad Kids Go (Circle of Heck #1) by Dale Basye (gr 4-8)
After Milton and Marlo Fauster die, they are sent to Heck, an other worldly reform school. Milton knows why his pickpocket sister is here, but Milton has always been a good kid and he believes a serious error was made in sending him to Heck, and he plans what to do next to get both of them out of there.
---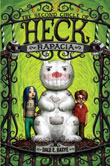 Rapacia (Circle of Heck #2) by Dale Basye (grades 4-8)
Formerly dead Milton Fauster tries to save his older sister Marlo from "eternal darnation" when she is sent to another educational level of the Underworld reform school known as Heck.