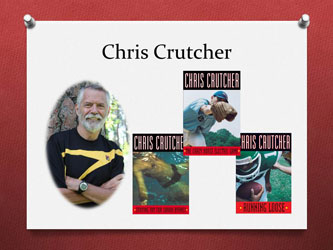 Chris Crutcher was born in Dayton, Ohio in 1946 but tells people he landed in Cascade, Idaho before nurses had time to dry him off. He lost his front teeth as a freshman at Cascade High School when he had a run in with a baseball bat to impress the girl of his dreams. The bat won. He once put rotten cheese in the school bus engine as a prank. And teachers never thought he'd write a book. So far, he's written more than a dozen.
Visit Chris Crutcher's website at www.chriscrutcher.com
---
Chris Crutcher's 2013 Workshop: TURNING REAL LIFE INTO FICTION
As a working family therapist and child protection advocate, novelist Chris Crutcher has born witness to compelling real life stories of pain, recovery and survival. Turning those gritty tales into works of fiction has helped make the Spokane-based author one of the most popular and critically acclaimed young adult writers of our time — and one of the most frequently banned. How does he do it? Why does he do it? He'll explain in this  powerful presentation.
---

Staying Fat for Sarah Byrnes by Chris Crutcher
Grades 8-12
Pages 295
Sarah Byrnes and Eric have been friends for years. When they were children, his fat and her terrible scars made them both outcasts. Later, although swimming slimmed Eric, she stayed his closest friend.  Now Sarah Byrnes — the smartest, toughest person Eric has ever known — sits silent in a hospital. Eric must uncover the terrible secret she's hiding, before its dark currents pull them both under.

Crazy Horse Electric Game by Chris Crutcher
Grades 8-12
Pages 296
Willie Weaver used to be a hero. Now he's nothing. Willie is a top athlete, the star of the legendary game against Crazy Horse Electric. Then a freak accident robs him of his once-amazing physical talents. Betrayed by his family, his girlfriend, and his own body, Willie's on the run, penniless and terrified on the streets, where he must fight to rebuild both his body and his life.

Running Loose by Chris Crutcher
Grades 8-12
Pages 216
Louie Banks has it made.  He's got a starting spot on the football team, good friends, and a smart, beautiful girlfriend who loves him as much as he loves her.  Early in the fall, he sees all his ideas of fair play go up in smoke; by spring, what he cares about most has been destroyed. How can Louie keep going when he's lost everything?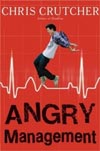 Angry Management by Chris Crutcher
Grades 9-12
Pages 246
Welcome to Angry Management.  It's a place for misfits. For stories that will rip out your heart and give you back one better than what you started with. Stories about prejudice, rage, and hope. About surviving it all and showing the world that what doesn't kill you makes you stronger.  In three novellas, Chris Crutcher brings together some of his most unforgettable characters—among them Sarah Byrnes, Angus Bethune, and Montana West—to bare their souls. No sugarcoating here. Just the truth.

Chinese Handcuffs by Chris Crutcher
Grades 9-12
Pages 296
Dillon is living with the painful memory of his brother's suicide — and the role he played in it. To keep his mind and body occupied, he trains intensely for the Ironman triathlon. But outside of practice, his life seems to be falling apart. Then Dillon finds a confidante in Jennifer, a star high school basketball player who's hiding her own set of destructive secrets. Together, they must find the courage to confront their demons — before it's too late.

Deadline by Chris Crutcher
Grades 9-12
Pages 316
Ben Wolf has big things planned for his senior year. Had big things planned. Now what he has is some very bad news and only one year left to make his mark on the world. How can a pint-sized, smart-ass seventeen-year-old do anything significant in the nowheresville of Trout, Idaho? First, Ben makes sure that no one else knows what is going on-not his superstar quarterback brother, Cody, not his parents, not his coach, no one. Next, he decides to become the best 127-pound football player Trout High has ever seen; to give his close-minded civics teacher a daily migraine; and to help the local drunk clean up his act. And then there's Dallas Suzuki. Amazingly perfect, fascinating Dallas Suzuki, who may or may not give Ben the time of day. Really, she's first on the list. Living with a secret isn't easy, though, and Ben's resolve begins to crumble . . . especially when he realizes that he isn't the only person in Trout with secrets.
Stotan! By Chris Crutcher
Grades 9-12
Pages 261
Stotan: A cross between a Stoic and a Spartan. It's the last swimming season for Walker, Nortie, Lion, and Jeff, and their coach is building their self-discipline in a grueling four-hour-a-day test of stamina designed to bring them to the outer edge of their capabilities. As it turns out, Stotan Week is also the week in which secrets are revealed, and the four friends must draw upon their new strengths for an endurance they never knew they'd need.

Whale Talk by Chris Crutcher
Grades 9-12
Pages 298
A varsity letter jacket: it's exclusive, nearly unattainable, revered . . . and everything that's screwed up about Cutter High, as far as T. J. Jones is concerned. That's why T. J. is determined to have the Cutter All Night Mermen-the unlikeliest swim team a high school has ever seen-earn letter jackets of their own. It won't be easy. For one thing, they don't even have a pool. They will fight for their dignity, they will fight with each other, and sometimes they will just fight. And then they will realize that a single moment can bring lifelong heartache or lifelong friendship. For T. J. and his crew of misfits, the quest may be far more valuable than the reward.