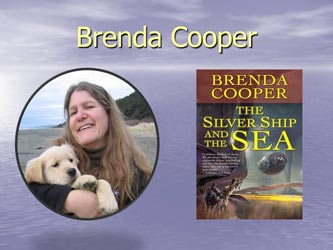 Brenda Cooper is a technology professional, a science fiction writer and a futurist. She graduated from California State University, Fullerton, with a BA in Management Information Systems and is now living in Bellevue, Washington. She is currently working as Chief Information Officer for the city of Kirkland.
Brenda has three novels out with Tor books: The Silver Ship and the Sea (which won the Pacific Northwest Endeavor Award in 2008 – beating out famed author Ursula LeGuin), its sequel, Reading the Wind, and a collaboration with Larry Niven titled Building Harlequin's Moon. Her next novel, Wings of Creation, will be out in November, 2009.
---
2010 Cavalcade workshop: Settings & description
Ever wondered what makes the reader feel part of the story? Surround your reader with setting by using distinct sensory details. There's a big difference between "The cat walked out into the night" and "The black cat's nails scratched softly on the floor as it passed through the open door into the new-mown back yard." You can see, hear, and smell the second phrase.

In this workshop we'll read from some very sensory work, and create some of our own as well. Come prepared to see, hear, smell, and taste your way through some fine fiction.
Featured book:
Silver Ship and the Sea by Brenda Cooper
Publisher:  Doherty, Tom Associates, LLC
400 pp
Cooper's first solo novel is an engrossing tale of six young outsiders growing up on a colony planet. They were left behind as young children, descendants of a group of "altered" (genetically modified) people who landed on the planet and ultimately fought with its original colonists. Now 12 years have gone by, the "altered" children are teens, and many members of the colony are profoundly uneasy about them.  With no one to turn to, Chelo and the others must now learn how to use their distinct skills to make this unwelcome planet home, or find a way off of it.  They have few tools—an old crazy woman who wanders the edges of town spouting cryptic messages; their appreciation and affection for each other; a good dose of curiosity; and that abandoned silver space ship that sits locked and alone in the middle of the vast grass plain. (HS – adult)
To contact Brenda – visit her website: http://www.brenda-cooper.com