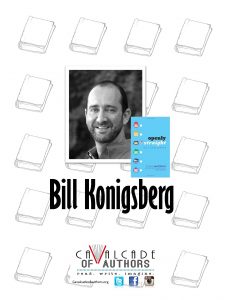 Bill Konigsberg was born in New York City. Expectations were high based on his highly athletic birth; he stuck the landing and received a 5.8 from the Russian Judge, but he was later disqualified when it was determined he was doping. He blamed his mother, a practice that continued for more than four decades. A city boy at heart, Bill grew up unaware that chickens didn't come from the grocery store (he imagined they were created somewhere in the back). When he later found out the ugly truth, he became petrified of eggs. To this day, Bill will not eat an egg. Yet somehow he's just fine eating chicken.
Visit him online at billkonigsberg.com
2017 Workshop: The Seven Deadly Sins of Young Adult Dialogue
Practice not these seven deadly sins, and your manuscript shall be saved! In this workshop, we'll talk about good dialogue from the standpoint of what NOT to do, we'll create the world's worst dialogue, and then we'll turn it around and focus on how to make your character's conversations shine. We'll also talk about how to listen in on conversations in coffee shops without getting caught.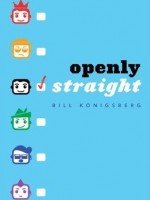 Openly Straight
by Bill Konigsberg

Rafe is a normal teenager from Boulder, Colorado. He plays soccer. He's won skiing prizes. He likes to write. And, oh yeah, he's gay. He's been out since 8th grade; he isn't teased, and he goes to other high schools and talks about tolerance and stuff. And while that's important, all Rafe really wants is to just be a regular guy. So he transfers to an all‐boys' boarding school, and decides to start over with a clean slate. Will Rafe learn to be himself? (gr 9-12)
Out of the Pocket
by Bill Konigsberg

An affecttng novel about identity that also delivers great sports writing. "A thought‐provoking, funny, and ultimately uplifting story of self‐actualization that masterfully defies stereotypes about both coming out and team sports." – School Library Journal

"A thoughtful, powerful novel." –Booklist

"It's tough enough completing your pass as the linebackers blitz, but when your private life is also crashing in, the game is about survival. A hard‐hittng first novel about quarterbacking your life." – Robert Lipsyte, author of Raiders Night

"How I rooted for Bobby, and all his imperfect, complicated, oh‐so‐human friends." – Catherine Gilbert Murdock, author of Dairy Queen and The Off Season. (gr 9-12)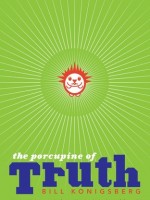 The Porcupine of Truth
by Bill Konigsberg

Carson Smith is resigned to spending his summer in Billings, Montana, helping his mom take care of his father, a dying alcoholic. Then he meets Aisha Stinson, a beautiful girl who has run away from her difficult family, and Pastor John Logan, who's long held a secret regarding Carson's grandfather. Together, Carson and Aisha embark on an epic road trip to find the answers that might save Carson's dad, restore his fragmented family, and discover the "Porcupine of
Truth" in all of their lives. (gr 9-12)