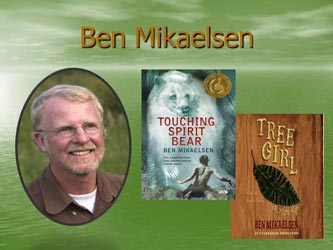 Ben Mikaelsen is winner of the International Reading Association Award and the Western Writer's Golden Spur Award.  His novels have been nominated to and have won many State Readers Choice awards.   These novels include Rescue Josh McGuire, Sparrow Hawk Red, Stranded, Countdown, Petey, Touching Spirit Bear, Red Midnight, Tree Girl and Ghost of Spirit Bear.
Ben is known for his in-depth research and the magical worlds he creates.  His research has taken him on many adventures including flying to the North Pole, going undercover with narcotics agents, living with the homeless in Mexico and with the Massai in Africa, just to name a few. Ben lives in a log cabin near Bozeman, Montana, with a 700-pound black bear named Buffy that he saved from a research facility and has raised for over twenty five years. Join author, adventurer & speaker Ben Mikaelsen, as he shares his insights and a glimpse inside his unique and exciting world.
---
2010 Cavalcade workshop: Research, Finding the heart of the story
Ben discusses the challenges faced in creating his books. A slide presentation allows a wonderful view inside Ben's research as he tries to uncover the "soul of a story". These experiences include raising a 700-pound black bear, living with the homeless, working with Dolphins, attending Space camp, going undercover with Drug Enforcement Agents and living with the Maasai in Africa. The diversity of Ben's writing and research is what has made his books so appealing to students. This presentation is both informative and entertaining.
Featured books:
Touching Spirit Bear by Ben Mikaelsen
Publisher:  HarperCollins
256 pp
Angry, defiant, smug–in short, a bully. Cole Mathews's anger has taken him too far this time. After beating up a ninth-grade classmate to the point of brain damage, Cole is facing a prison sentence. But then a Tlingit Indian parole officer named Garvey enters his life, offering an alternative called Circle Justice, based on Native American traditions, in which victim, offender, and community all work together to find a healing solution. Privately, Cole sneers at the concept, but he's no fool–if it gets him out of prison, he'll do anything. Ultimately, Cole ends up banished for one year to a remote Alaskan island, where his arrogance sets him directly in the path of a mysterious, legendary white bear. Mauled almost to death, Cole awaits his fate and begins the transition from anger to humility.  (Gr. 7 & Up)
Tree Girl by Ben Mikaelsen
Publisher:  Harper Teen
240 pp
In her remote Guatemalan village, 14-year-old Gabriela is known as Tree Girl for her habit of fleeing to the forest and climbing high to escape the world. When guerrilla warfare comes to her area, her life is changed forever. Soldiers eventually discover the small school she attends, beat and murder her teacher, and shoot the other students. Tree climbing saves Gabi from that massacre, and she is away from home when her village is destroyed and nearly all of her family members are murdered. In the course of her flight north to a Mexican refugee camp, she again hides in a tree while soldiers rape and murder the inhabitants of another village. After arriving at the camp, Gabi cares for two elderly women and her one surviving sister and eventually founds a school. Her concern for others helps her recover from the trauma of her experiences.  (Gr. 6 – 10)
You can visit Ben's website:  http://www.benmikaelsen.com
To contact Ben you can e-mail him at:  ben@benmikaelsen.com