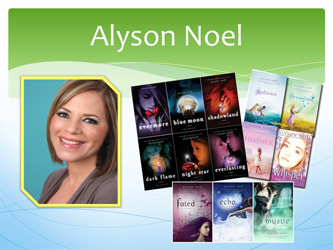 Alyson Noël is the #1 New York Times best-selling, award-winning, author of 21 novels, including: The Immortals series, The Riley Bloom series, and The Soul Seekers series. With over 8 New York Times bestsellers in 2 years, and over 7 million copies in print, her books have been translated into 37 languages and sold in over 50 countries, which has allowed her to tour all over the world, meeting amazing readers and eating things like frog slime (not nearly as tasty as you might think), and fried guinea pig (tastes a lot like chicken). She pronounces the word thing like theen (not on on purpose), her hair has been brown, orange, red, blonde, auburn, black, and purple (all on purpose except for the purple), she's a firm believer in silver linings (even when all evidence points against it), and is currently obsessed with chai tea (though this could change at any moment).
You can visit her at: http://www.alysonnoel.com
---
2015 Workshop: From High School Slacker to #1 New York Times Best Seller
A conversation with Alyson Noel. Alyson will discuss her books, her journey from high school slacker to best selling author of 23 novels, and answer your questions on the craft and business of writing.
Featured books: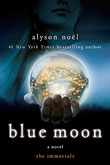 Blue Moon (Immortals #2) by Alyson Noël (for high school readers, grades 9-12)
Eager to learn everything she can about her new abilities as an Immortal, Ever turns to her beloved Damen to show her the way, but just as her powers are increasing, his are in decline, and as she searches for a way to save him, she finds herself with a wrenching choice to make.
---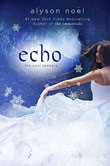 Echo (Soul Seekers #2) by Alyson Noël (for high school readers, grades 9-12)
While honing her skills as a Soul Seeker, Daire Santos falls in love with Dace but soon discovers his connections to the wicked Richter family. Left feeling betrayed, Daire begins to wonder how she really feels and whether she can have a relationship with Dace at all.
---
Evermore (Immortals #1) by Alyson Noël (for high school readers, grades 9-12)
Since the car accident that claimed the lives of her family, sixteen-year-old Ever can see auras and hear people's thoughts, and she goes out of her way to hide from other people until she meets Damen, another psychic teenager who is hiding even more mysteries.
---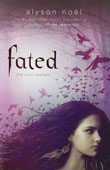 Fated (Soul Seekers #1) by Alyson Noël (for high school readers, grades 9-12)
Young Daire Santos has unexplained visions and is sent to live with her grandmother who recognizes that the visions are a call to Daire's destiny as a Soul Seeker. Having the power to navigate between the worlds of the living and the dead, she attempts to understand and harness her powers.
---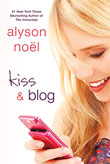 Kiss and Blog by Alyson Noël (grades 7-9)
Sophomores Winter and her best friend Sloane make a pact to do whatever it takes to become popular while sticking together during their sophomore year at Ocean High. But when Sloane gets noticed by the in crowd, she forgets about Winter and their promise to each other.
---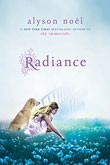 Radiance (Riley Bloom #1) by Alyson Noël (grades 5-8)
Riley has crossed the bridge into the afterlife—a place called Here, where time is always Now. She has picked up life where she left off when she was alive, living with her parents and dog in a nice house in a nice neighborhood. When she's summoned before The Council, she learns that the afterlife isn't just an eternity of leisure. She's been assigned a job, Soul Catcher, and a teacher, Bodhi, a possibly cute, seemingly nerdy boy who's definitely hiding something.
---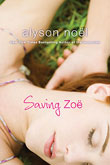 Saving Zoë by  Alyson Noël  (grades 7-11)
Instead of a fresh start, high school provides more grief and isolation to Echo, whose older sister died a year earlier, but insights gained from Zoe's diary–a fifteenth birthday gift from Zoe's boyfriend–about her sister's life and death change Echo in ways she could have never expected.