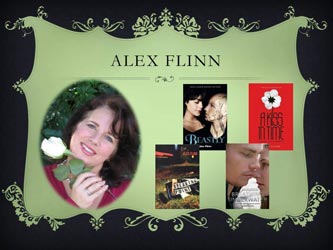 Alex Flinn is a former lawyer and former opera singer. In elementary school, she got her first rejection letter and knew she was on her way to being a writer. She is the author of ten published books, including Beastly, which was recently made into a motion picture, so she got to go to a Hollywood premiere, and her mom took an embarrassing number of photos of her with Neil Patrick Harris! Her new book, Bewitching (February, 2012), is a companion to Beastly. She lives in Miami with her husband, two daugh-ters, a cat, dog, rabbit, two tortoises, and a marine toad who comes onto the patio to eat the dog food.
---
2012 Cavalcade workshop: Building Suspense in Fiction
Suspense isn't just for murder mysteries. It's used in many forms of fiction. In this workshop, we'll discuss how to keep readers turning pages. Suggested (but not required) preparation: Watch the movie, Back to the Future, which will be used as an example in parts of this workshop.
Featured books:
Beastly by Alex Flinn
grades 7-12
Love is never ugly. Now a major motion picture starring Vanessa Hudgens and Alex Pettyfer, I am a beast. A beast! Not quite wolf or bear, gorilla or dog but a horrible new creature who walks upright. I am a monster. You think I'm talking fairy tales? No way. The place is New York City. The time is now. It's no deformity, no disease. And I'll, stay this way forever—ruined—unless I can break the spell.  Yes, the spell, the one the witch in my English class cast on me. Why did she turn me into a beast who hides by day and prowls by night? I'll tell you. I'll tell you how I used to be Kyle Kingsbury, the guy you wished you were, with money, perfect looks, and the perfect life. And then, I'll tell you how I became perfectly…beastly.
A Kiss in Time by Alex Flinn
grades 6-9
Talia fell under a spell . . . . Jack broke the curse. I was told to beware the accursed spindle, but it was so enchanting, so hypnotic… I was looking for a little adventure the day I ditched my tour group. But finding a comatose town, with a hot-looking chick asleep in it, was so not what I had in mind. I awakened in the same place but in another time—to a stranger's soft kiss. I couldn't help kissing her. Sometimes you just have to kiss someone. I didn't know this would happen. Now I am in dire trouble because my father, the king, says I have brought ruin upon our country. I have no choice but to run away with this commoner! Now I'm stuck with a bratty princess and a trunk full of her jewels… The good news: My parents will freak! Think you have dating issues? Try locking lips with a snoozing stunner who turns out to be 316 years old. Can a kiss transcend all—even time?
Breathing Underwater by Alex Flinn
grades 8-12
To his friends, popular and handsome sixteen-year-old Nick Andreas has led a charmed life. But the guys in Nick's anger management class know differently. So does his  ex-girlfriend Caitlin. Now it looks like the only person who doesn't realize how far from perfect Nick's life has become is Nick himself.
Annotation
Sent to counseling for hitting his girlfriend, Caitlin, and ordered to keep a journal, sixteen-year-old Nick recounts his relationship with Caitlin, examines his controlling behavior and anger, and describes living with his abusive father.
Breaking Point by Alex Flinn
grades 7-12
How far would you go to fit in? Paul is new to Gate, a school whose rich students make life miserable for anyone not like them. And Paul is definitely not like them. Then, something incredible happens. Charlie Good, a star student and athlete, invites Paul to join his elite inner circle. All Charlie wants is a few things in return – small things that Paul does willingly. Until one day Charlie wants something big – really big. Now Paul has to decide how far he′ll go to be one of the gang. The electrifying follow-up to Alex Flinn′s critically acclaimed debut novel, Breathing Underwater, Breaking Point is a tale of school violence that explores why and how a good kid can go ′bad.′