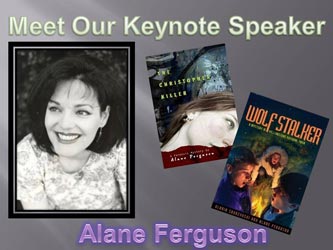 Alane Ferguson was born in Cumberland, Maryland, in 1957. She attended the University of Utah and Westminster College where she studied journalism. Later, Alane became interested in writing for children, mostly, she says, to follow the example of her mother, successful author Gloria Skurzynski. Their novel, Wolf Stalker, was the first work of fiction National Geographic had published in its 109 year history. Wolf Stalker was nominated for the 1998 Mystery Writer's of America Edgar Allan Poe Award and the newest and 13th book in the series, Night of the Black Bear, was launched in spring of 2007. Alane was also a nominee for her third young-adult mystery, Poison. She received a 2007 Edgar nomination for her young adult novel, The Christopher Killer, the first in the Sleuth Forensic Mystery series.  Alane is currently completing her thirty-second novel.
---
2011 Cavalcade workshop: Publishing Secrets: How to Make your Writing Sell!
Keynote Speech: From Picture Books to Forensic Mysteries: My Funny, Sad, and Unique Journey as an Author
Featured books:
The Christopher Killer by Alane Ferguson
Gr. 7-12
On the payroll as an assistant to her coroner father, 17-year-old Cameryn Mahoney uses her knowledge of forensic medicine to catch the killer of a friend while putting herself in terrible danger.
Wolf Stalker by Alane Ferguson
Gr. 5-8
Twelve-year-old Jack, his younger sister, and the family's teenage foster child Troy go to Yellowstone National Park, where Jack's mother, a wildlife veterinarian, is investigating the report that wolves reintroduced to the park have killed a dog there. Co-authored with Gloria Skurzynki.